Voices of Experience


An Interview with Kurt Anderson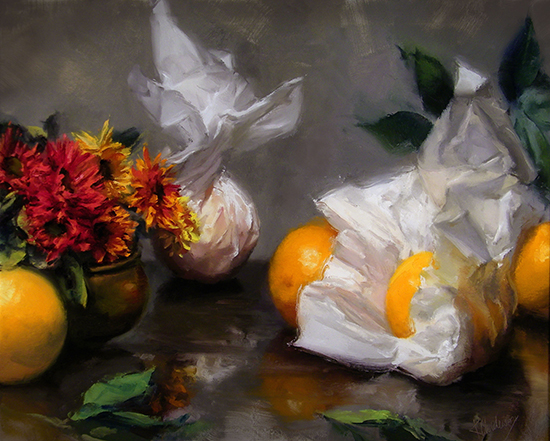 Gifted Oranges 24 x 30" Oil

"I try to paint the essence of what I'm seeing,

painting only so much detail as is necessary

to capture that essence."
Kurt Anderson's formal training in fine arts gave him the skills he needed to produce the highest quality representational works. His unique voice in his painting came from time spent working on his own, painting en plein air and from live models. This intensity of study and practice have led him to receive multiple awards and honors nationally for his work. Anderson has also authored several books on painting. His work is represented in major collections and galleries and has been published in multiple arts publications. We asked him to start by writing about his background, artistic influences in his childhood and his time spent at the Richard Lack Atelier in Minneapolis.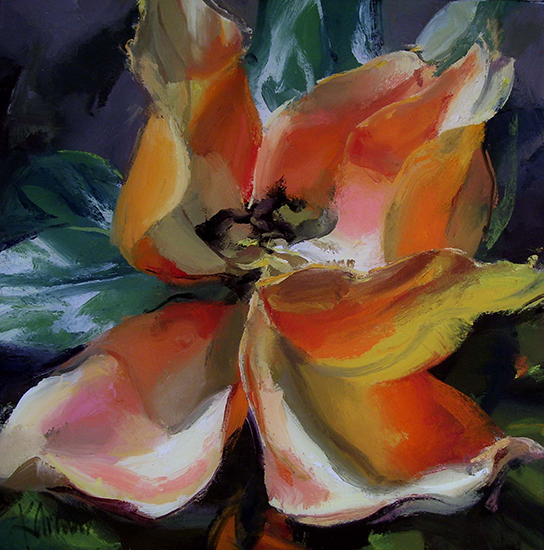 Exotic Tulip II 20 x 20" Oil



I was always artistically inclined and was lucky to live in Germany for two years when I was beginning elementary school. Our family visited the capitals of Europe and the great cultural landmarks and museums there and they tell me I was particularly enthralled.

I was also very fortunate to have taken art classes as a child at the local recreation center with a serious artist. She introduced me to oil painting when I was twelve. She had a supply list that included a few oil colors and some brushes which she said we should keep in a shoebox. I still remember walking up the long stairway to the studio room proudly bearing that shoebox under my arm as the smell of linseed oil enveloped me.

Although I loved and excelled at art, I had a lot of other interests as well. My senior year in high school I was the editor of the school newspaper, the president of the debate team, and had the lead in one of the school plays – all very artsy, nerdy pursuits, to be sure. But after a year at the University of Iowa, and an introductory art course, I was convinced I wanted to major in art and be a painter. So at my professor's suggestion I made an appointment with the department head. And this is what happened—after looking at my work, he asked me who my favorite artists were. I mentioned John Singer Sargent, among others. He scowled and said a number of dismissive things, including, most memorably, that Sargent was "really an illustrator." I took the hint and began exploring other options. And in the process of doing that came across an article about Richard Lack and his atelier.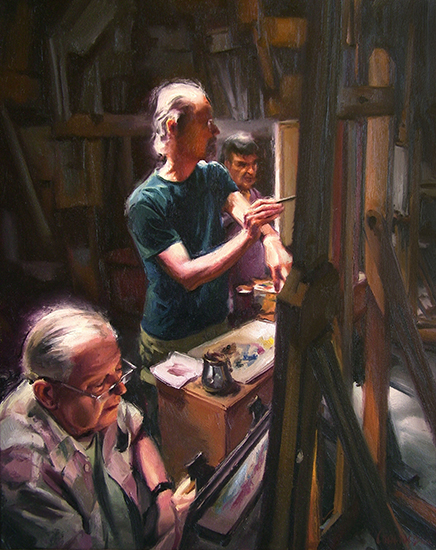 Co-op at Studio Recchion 30 x 24" Oil
The long and short of it is that I left the University of Iowa and moved to Minneapolis, which is where Lack was located. I enrolled in the University of Minnesota, while at the same time taking classes from some of Lack's students. Eventually he invited me to be one of the ten or so students in his atelier. I studied with him for four years. This pulled me away from my university studies, but I would eventually finish my BA in art at the University of Arizona. However, I consider Atelier Lack to be my formative education as an artist. Every morning we would arrange ourselves in a semicircle around a live model drawing or painting, and every afternoon we would work on casts, still lifes and live models in our own cubicles. For four years. It was wonderful! But it wasn't perfect—at least not for me and my personality. What Lack gave me was an incredible respect for drawing, for precision, and for being true to subtleties of form and anatomy. But in an odd sense in leaving the university for the atelier, I left one narrow set of attitudes for another of the complete opposite kind. I felt the need to get away from the atelier and its academic orthodoxies in order to have the freedom to explore and discover the artist I wanted to be. And that was a process I pretty much carried out on my own. Central to that process was a lot of plein air painting, and a weekly habit of drawing and painting from models at whatever open studio opportunities I could find – something that I still do.

Do you continue to work in other mediums besides oil?

As I said, I attend open studio model sessions whenever I can, so I make lots of charcoal drawings. Lots. When I die my descendants will probably sell them in bales. I also like to make watercolors. I travel with oils all the time for demos and plein air events, but when I travel with my family, I find it is so much easier to pack watercolors—but I paint these mainly as keepsakes for myself and my family.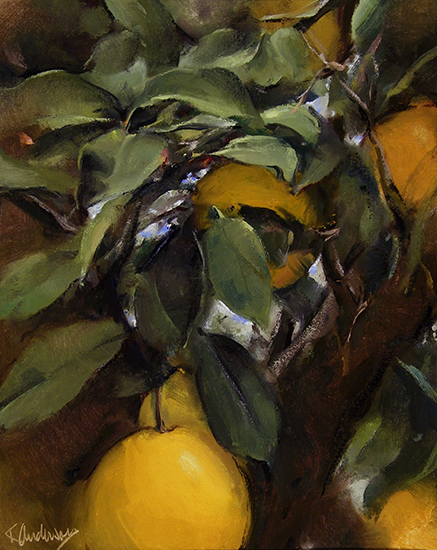 Orange Tree 20 x 16" Oil
Would you tell us about your process from inspiration to final work?

Whether I'm painting a person, a still life, or a single flower, I always work directly from the subject. The only exception is when I paint larger landscapes in the studio. In that case I use plein air studies made on the spot along with photo references for detail. I pretty much set up the subject as I want to paint it, and then work very directly, painting on an untoned white gessoed canvas.

I begin with a very thin monochromatic wash of oil color and mineral spirits. I make a very quick and somewhat imprecise drawing, the primary purpose of which is to get the basic composition and placement of the elements within the canvas boundaries. Once I'm satisfied with this, I jump in with the opaque color, using the paint pretty much as it comes out of the tube. I begin with the darkest notes, jumping around the canvas. I then put in the middle values, and then the lighter values. I try to get the entire canvas covered quickly with my focus on the broad placement of color and value masses. Once the canvas is covered, I come back and more carefully dig out the contours and add details. It is as if I'm beginning with an image that is very blurry and abstract and bringing it into focus.

To keep a fresh spontaneous quality to my paintings I like to work alla prima, in a single layer. So once I've put the paint down, I have to finish whatever I've started while it is still wet. I will sometimes cover and finish a large canvas in a single day-long session, especially if I'm painting one large flower. However, I more often have to break the painting into parts. I will choose a section to work on, perhaps a quarter of the painting, and finish it in a single day, integrating it into whatever section I have already completed.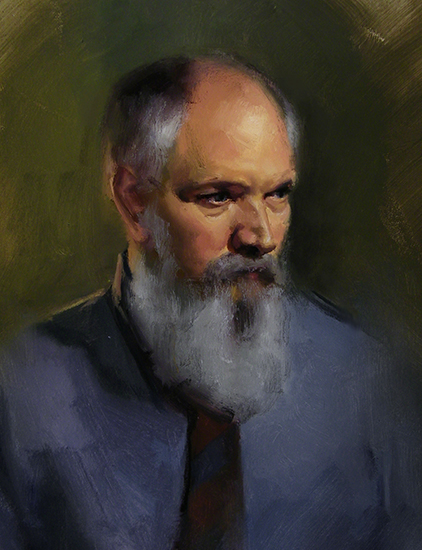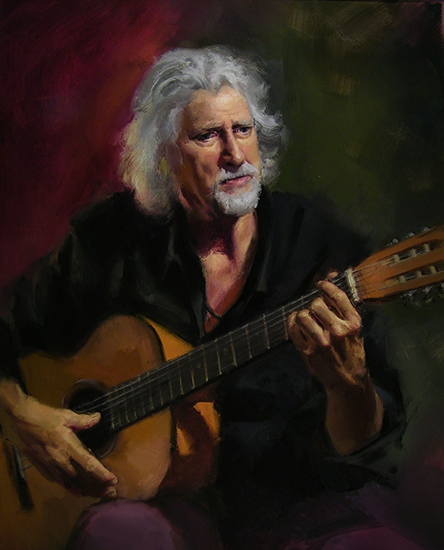 Portrait of Erich Erving 24 x 20" Oil Portrait of Bradford Turner 40 x 30" Oil
If the subject is a person, I find that I do a lot of picking and choosing as I paint in terms of expression and gesture, etc. It is a dynamic process. The same with a flower set up. I spend a lot of time arranging the elements in just the right way, but as I paint it, there is a lot of picking and choosing as the elements themselves change. As I'm finishing the painting, I will usually find the need to add entirely new visual touches and elements that are not in my field of vision. So while nature is my starting point and guide, I am not wedded to it. I'm always thinking about what will make a visually interesting and satisfying picture, not whether it is perfectly true to what I'm seeing.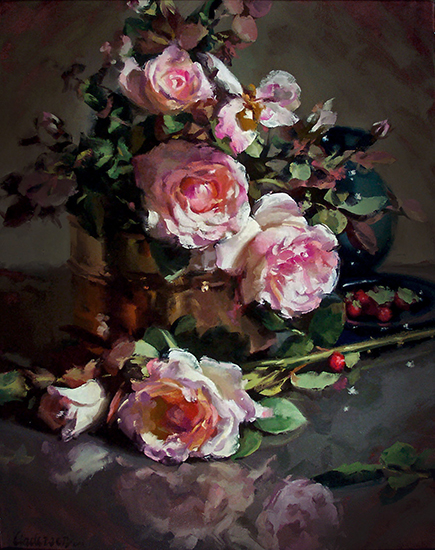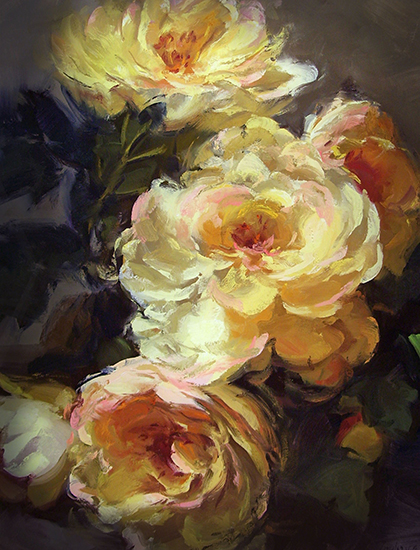 Roses and Raspberries 28 x 22" Oil Yellow Peonies II 40 x 30" Oil

Please tell us your typical palette colors.

I use a very limited palette of about five colors plus white: Titanium White, Cadmium Lemon, Cadmium Orange, Permanent Alizarin, French Ultramarine, Raw Umber and Ivory Black. For studio work I usually mix the Umber and Black two parts to three, so it counts as one color. Limiting choices makes the decision-making easier as I reach for colors to mix, and I like the chromatic unity that this seems to facilitate. I find that I can achieve 95% of the colors I encounter with this palette. However that remaining 5% requires a drawer full of colors that I reach for when needed, colors like Quinacridone Magenta, Dioxizine Purple, and Pthalo Blue. When a flower or other object requires a more intense color I will add one of these to my palette.

My palette is a 2 x 4 foot glass covered table that I push up against the front of the easel. I put out pretty large mounds of color because I never want to feel restrained from putting copious amounts of paint on my brush and canvas. I live by the axiom "Use cheap paint and waste it," which I say somewhat tongue in cheek. I use a lot of Utrecht and Gamblin colors, but my Cadmiums are Winton since they are a cheaper brand, if being set back $25 for a 200ml tube can be considered cheap.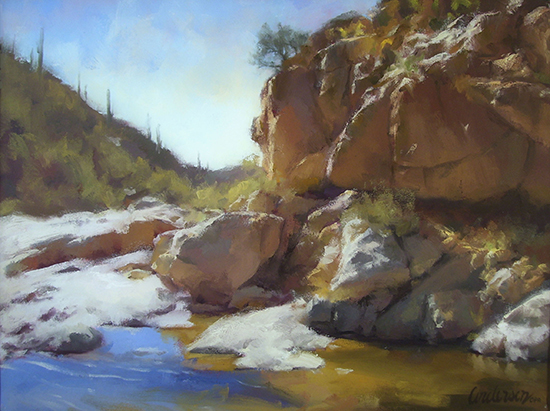 Tanque Verde Cliffs 18 x 24" Oil
What words of encouragement or piece of advice would you give a beginning artist?

When I am teaching, I find that the advice I am most frequently telling students is to let the visual world solve whatever problems they are having with their drawing or painting. Here is what happens. As soon as you put something down on your paper or canvas your attention is drawn there. If you like something you have made you will try to preserve it at all costs, and if you don't like something, you will try to correct it before moving on. In both cases making your artwork look nice becomes your priority. The artwork is the focus and not the subject. If the subject is the focus (rather than the artwork) nothing will be so precious that you can't correct it or make it better, and rather than fruitlessly reworking passages that are failing, you will keep adding the other elements like puzzle pieces that will help you to see how you can truly correct the problem. That's what I keep reminding myself when I am struggling in my own work. I say to myself, "Let nature paint itself," and I usually will find the answer to the problem right in front of me. I just need to look.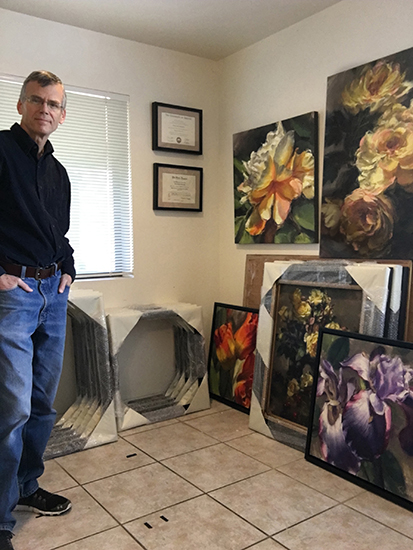 To see more of Kurt Anderson's work,
go to: https://www.kurtanderson.net
All artwork copyright Kurt Anderson