Keeping the Channel Open

Perspectives No. 229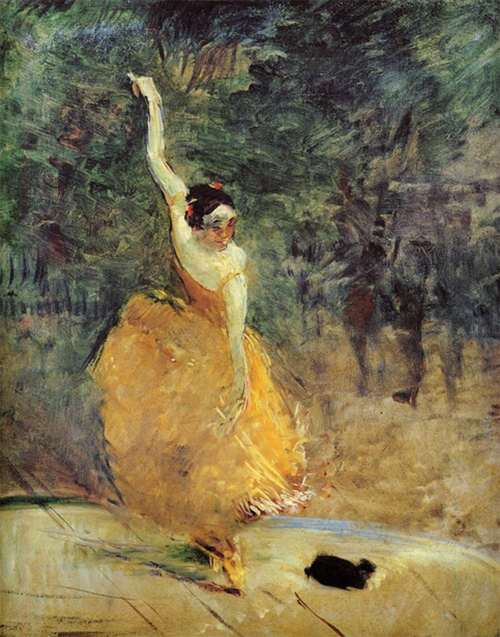 The Spanish Dancer 1888 Henri de Toulouse-Lautrec

"The most brilliant scientific discoveries will in time change and perhaps grow obsolete as new scientific manifestations emerge.
But art is eternal, for it reveals the inner landscape,
which is the soul of man." - Martha Graham
(This I Believe, Vol. 2, 1952; and The Routledge Dance Studies Reader, 1998, by Alexandra Carter and Janet O'Shea)

Martha Graham (1894-1991), the American modern dancer and choreographer, wrote beautifully about the art of dance. Her words have inspired artists in all creative genres. We find them essential to revisit, particularly at those times of isolation or self-doubt.

She wrote: "There is a vitality, a life force, an energy, a quickening that is translated through you into action, and because there is only one of you in all of time, this expression is unique. And if you block it, it will never exist through any other medium and it will be lost. The world will not have it. It is not your business to determine how good it is nor how valuable nor how it compares with other expressions. It is your business to keep it yours clearly and directly, to keep the channel open. You do not even have to believe in yourself or your work. You have to keep yourself open and aware to the urges that motivate you. Keep the channel open . . . No artist is pleased. [There is] no satisfaction whatever at any time. There is only a queer divine dissatisfaction, a blessed unrest that keeps us marching and makes us more alive than the others." (The Life and Work of Martha Graham (1991) by Agnes de Mille)

We get a full dose of this philosophy every day that we are working as visiting artists here in the bronze sculpture foundry in Alpine, Utah. The reason is that the owners of this particular foundry believe that it is vital to have artists working on site. They maintain a special art studio where weekly classes are held in life drawing and sculpture. The studio is also a place where some of the top sculptors in the country work on their personal art as well as their monumental commissions. The room is large and well lit and filled with maquettes and beautiful sculptures of all kinds, stacked on shelves and in every spot available. It is inspiring to see the magnificent sculptures these other artists are making - each one different, each one a personal expression of the individual artist, all so different than anything we would think of making. We learn a tremendous amount working next to these talented and highly-skilled sculptors.

Having a group of artists to associate with from time to time can enlighten us and open our eyes to the diversity, the "unblocked vision" that pours out of creative minds. An artist's life is often solitary, but an association with other artists in an environment of creativity can motivate and encourage our unique expressions.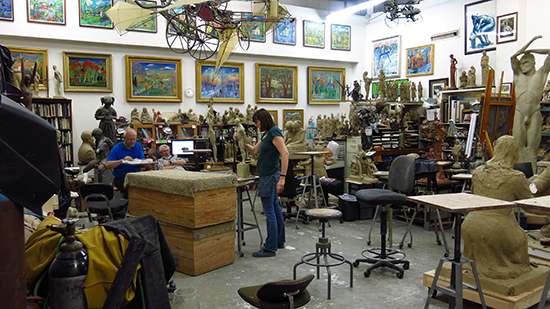 The Adonis Bronze Foundry Sculpture Studio, Alpine, Utah