Keep Making Art

Perspectives No. 423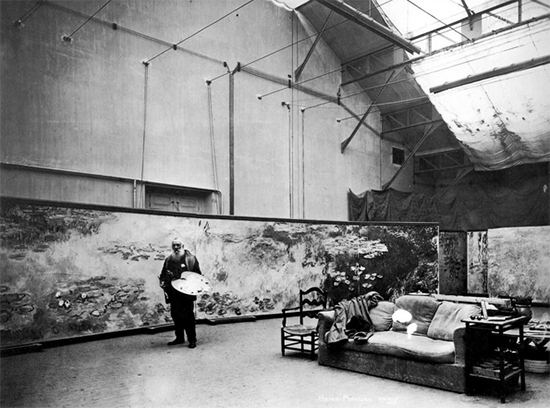 Claude Monet in His Studio with Nymphaea Panels
At turbulent times such as these, it is art that we return to for comfort and inspiration. Like old friends, our favorite paintings calm and soothe and empower us in our own work. A dedication to our art sometimes forces us to not be able to make as strong of a commitment to other important issues as we would like. Although we try to be of service as often as we can and to be thoughtful citizens, we sacrifice for our passion as artists and sometimes question if it is enough.

However, we know through long experience that following our passion, even in difficult periods, is important and can be inspirational to others now and in the future as well. The history of art is replete with similar lessons to which we can turn for guidance.

Monet's massively gorgeous Nymphaea paintings have inspired generations and have become some of the most recognizable and iconic paintings of all time. While they present a world of beauty and peace, they were created during a time of world upheaval. Monet began the series—what he called his "Grande Décorations"— at the age of 73, as World War 1 exploded around him.

He, too, had doubts, writing in January of 1915, "I sometimes feel ashamed that I am devoting myself to artistic pursuits while so many of our people are suffering and dying for us." Thankfully, he carried on with his monumentally inspiring series, and today these paintings bring joy and hope to us during our anxious times.

Keep making art.