Voices of Experience


An Interview with Jeff Good



Lisabuela Park 22 x 30" Watercolor

"Painting and teaching others watercolor

is a passion and joy for me."
We find the stories of how artists discover their love of the creative process and how they pursue their passion to be both fascinating and inspiring. Some start out taking art classes in college, but for various reasons, choose careers in other fields. Some interrupt their artwork to raise families. Countless others continue to pursue their art as their time permits, working at other jobs to keep the lights on. The leap to full-time artist isn't easy to make, and for many, it has to wait until there is a life change, such as retirement from a career. Jeff Good is an architect who never lost sight of his love for watercolor painting and even found ways to weave it whenever possible into his practice. Since his retirement from a large architecture firm, he has been working hard at his second career in plein air and studio watercolor painting. We think his story will resonate with many of you.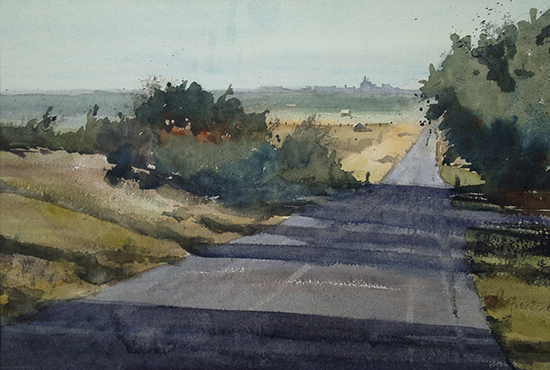 Road to Lawrence 15 x 22" Watercolor

I have had an interest in art since for as long as I can remember. My parents were art lovers and my father was an architect. I would say their influence was to passively encourage me in the arts. It was up to me to decide what I wanted to do with it. My father would sketch in charcoal and pastel (chalk) during our family vacations. Watching him do this was powerfully impactful to me. He did illustrations as part of his architectural practice and I must have been aware at a young age as to what he was doing. He did not, however, invite me to sketch or draw with him. This may in part be why I teach by demonstrating watercolor rather than lecturing on techniques. During my first year of elementary school, my parents were called in for a parent-teacher conference. The teacher was concerned with how I was completing an art assignment. I was to make a picture of my house and she could not tell what I was drawing. My father looked at my drawing and said "That's a floor plan of the house". I don't remember anything of that episode, but I love the story. It was not until high school that I encountered an art teacher who inspired me through constructive critiques of my work. This was the first feeling I had that art was a means of self expression and creativity rather than just an assignment to turn in. At the same time, I was excelling in my technical drafting courses (considered vocational training, I believe). These experiences eventually led me to major in architecture at The University of Kansas.

I grew up in Kansas. My early years were spent in Leawood, a suburb of Kansas City. When I was six years old we moved to Lawrence, as my father had taken a position as a professor in the College of Architecture, which in the early sixties was still part of the School of Engineering. Often I would walk the few blocks from our house to Marvin Hall to see dad in his studio office. I loved the creaking of the old wood floors, the smell of art supplies and the drawings and models scattered about. It seemed the opposite of drudgery school work. Later, about the time I got involved with art in high school, I took several scouting merit badges in art and architecture. One of my counselors was George Beal, a retired Dean of the School of Architecture. We had long discussions about art and building design, which only furthered my interest in the visual arts.

During my second year of architecture school I took a design studio class under Professor Gaylord Richardson. He had an interest in watercolor painting, particularly plein air painting. Although not part of the curriculum at the time, he offered to take anyone interested in painting excursions after class. I was immediately consumed by this and started painting in watercolor, both plein air and for class illustration assignments. That was 1976. In 2006, thirty years later, Gaylord invited me back to guest instruct his watercolor class, by then an accredited class. What a great opportunity to come full circle with the instructor and venue that first started me on my path as a watercolor artist. This experience opened a new door for me. I realized how valuable teaching can be for the instructor as well as the students. I found the students so eager to learn and for me it was a new inspiration to expand my art by sharing my process.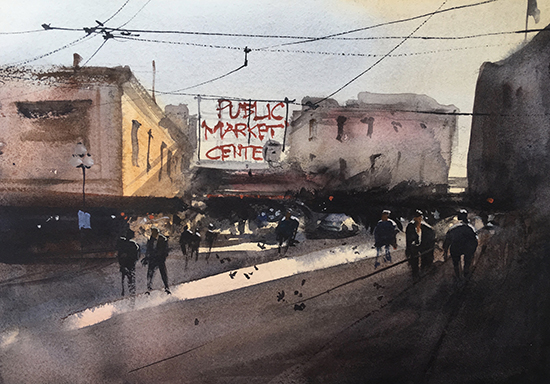 Pike Place Market 11 x 14" Watercolor
Throughout my 40-year working career as an architect, I continued to paint in watercolor. There were years when only a few paintings were completed due to the demands of life, working, raising a young family, etc. Gradually, as more time was available, I ramped up my painting. I was also by then more confident to incorporate watercolor design sketches in my architectural practice. Computer renderings so popular in the 1990s and 2000s had lost favor with many of our clients who preferred the human touch of hand renderings which can evoke the feeling of a creative conceptual vision. Only a few of us in a 100-person plus firm still drew by hand. However, we found ways to collaborate with computer technology for creating the wireframe perspective views and using Photoshop for final editing of watercolor and marker exhibits. More recently software has been developed to provide "filters" on computer renderings to give the appearance of watercolor. This works for architectural rendering purposes but does not translate to fine art unless, perhaps, the purpose is to create mixed media. Painting street scenes is a favorite subject matter of mine and is particularly helpful and transferable with my architectural renderings.
I currently work in a studio I built with a friend on my property. It is detached from the house and is the ultimate space for me to create—high ceiling, lots of north-diffused daylight, a large rolling work surface and a view to our vegetable and flower garden. I can't emphasis enough the importance of having a separate dedicated space designed specifically for your art. For many years it was the kitchen table or a spare bedroom. I know that is a reality for many, but you can always hope for your own space someday. When not in the studio I enjoy plein air painting as often as I can. I'm in a better place emotionally when I experience the subject I am painting first hand. You can feel the energy, sense of light and movement that all contribute to the expression that I put to paper. Plein air painting will make you a better artist. You must use your senses to edit the scene in front of you, making decisions on the fly about what to emphasize, composition, values, color.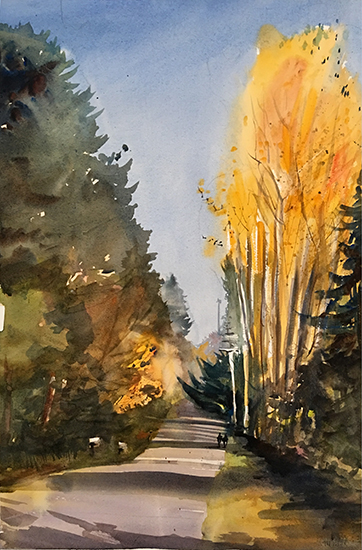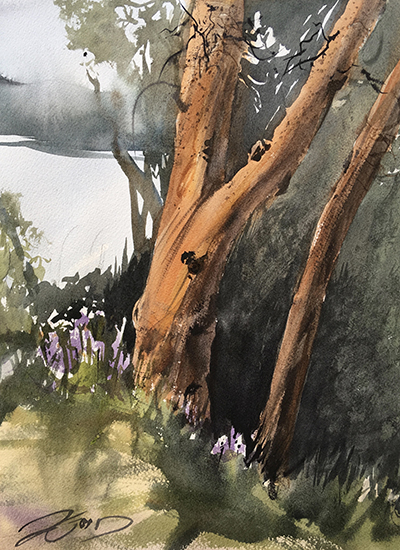 220th Street in Fall Color 22 x 15" Plein Air WC Madrone - Vashon Island 14 x 11" Plein Air WC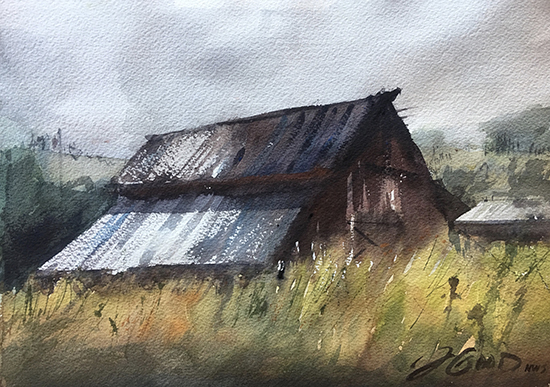 Methow Valley Barn 11 x 14" Watercolor
Watercolor is my media of choice for several reasons. It is very suited to outdoor painting since the palette and materials are easy to transport and the drying time is faster than acrylic or oils. It is common to hear that watercolor is harder to control and more difficult due to its transparent qualities—in other words you can't cover your mistakes! Those attributes are exactly why I like watercolor. No other medium has the ability to diffuse pigment on the paper or layer transparent washes to create a luminescent effect. It has taken me years to understand the balance of pigment and water on various degrees of moistness of paper, but once you have the confidence you stop trying to control every brush stroke and let the pigments work their magic.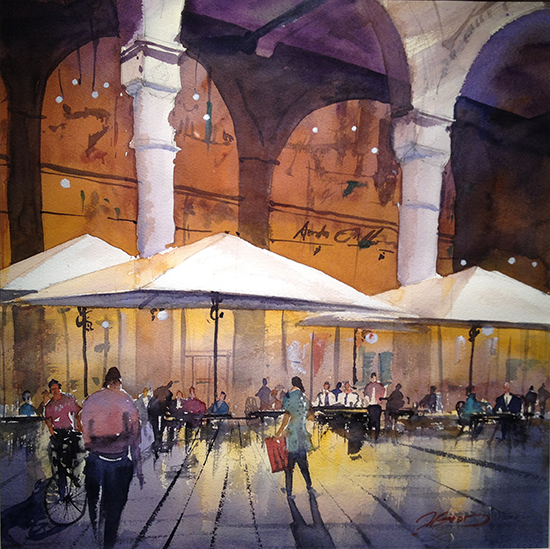 Evening in Milan, Galleria Vittorio Emanuele 20 x 20" Watercolor
Sketching and painting during travels is a passion of mine. In 1978 I traveled to Europe for the first time. Once I landed in Paris I found an art store and bought a cardboard portfolio which I filled with half-sheet watercolor paper. Half sheets are 15 x 22", so I was starting big for my first traveling plein air experience. I carried this around under one arm with a backpack on my back for a month. My friend and I used our Eurail pass to travel all over Europe, I still have the large paintings I did, which bring back much sharper memories of the moments I painted them than looking at the photos I took. I think that is the essence of why plein air painting is so worthwhile. It takes longer than a photograph which gives you time to slow down and take in your surroundings. It requires you to see in more depth, and what you see is different than what the camera sees. And the unexpected pleasure from doing this is your interaction with people passing by, often time locals who assume you are not a tourist because you are not pointing and shooting. Nowadays I use all format sizes from 8x10 sketch books to half-sheet watercolor paper.

I learned a great deal about the medium from professional painters that conduct demo-based multi-day workshops. I chose only the artists that appealed to my style of painting, which I would describe as semi-representational, loose, expressive landscapes and streetscapes. I have studied with Joseph Zbukvic, Mel Stabin, Jerry Stitt, John Salminen and Alvaro Castagnet. I have been influenced and inspired most by Alvaro and Joseph Z.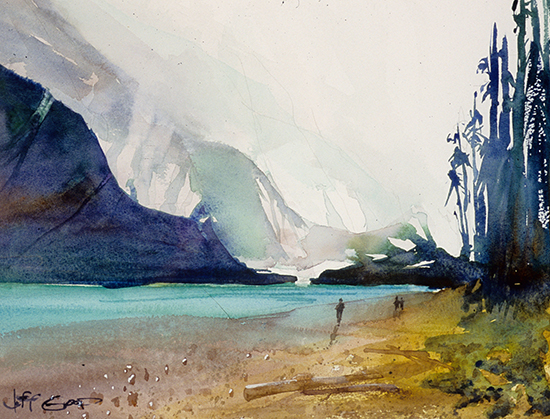 Moraine Lake 11 x 14" Plein Air Watercolor

The most valuable watercolor painting technique I have acquired is probably the understanding of how wet the paper is and how to use the right water/pigment ratio for the relative dampness of the paper. I use both 140# and 300# rough or cold press paper, usually full sheets that I tear to smaller sizes as needed. I usually use Fabriano or Arches paper. My preferred pigments are tubes of Daniel Smith or Sennelier. Most of my brushes are natural squirrel hair and a few natural sable although synthetics can have their place—the Escoda Perla, Isabey, Raphael and Castagnet rounds are my main-stays. I prefer to use large brushes.

Moving forward, I want to continue the weekly teaching of watercolor that I began a few years ago. I had the opportunity to teach younger staff during my career with my architectural firm and with that phase behind me I relish the opportunity to remain teaching through my watercolor practice.

I don't think my art is necessarily unique, although it speaks to me and that's what is important. It is definitely something you do for yourself. Living in the moment in the midst of a painting that is going well is what keeps me wanting to start the next one.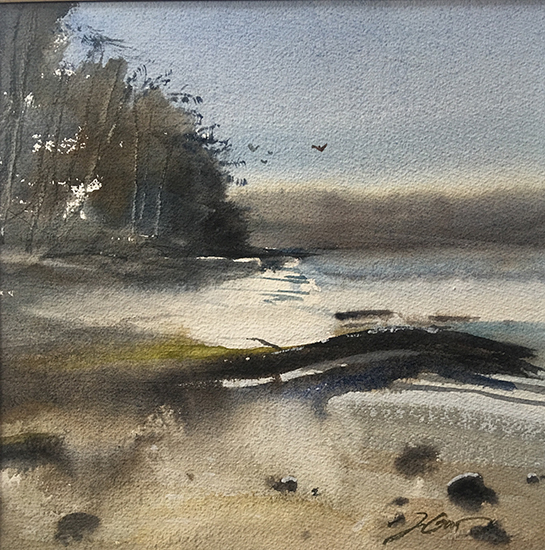 Christensen Cove 15 x 15" Plein Air Watercolor

My advice to beginning watercolor artists is this:

Practice—I'm still practicing after 40 years;
Develop a habit of sketching whenever you can, but every day. Carry a sketch book with you always. Every painting begins with a good sketch;
Invest in only professional grade brushes, paper and pigments. The lesser grade stuff will only discourage you;
Think composition, quality of light and values every waking moment.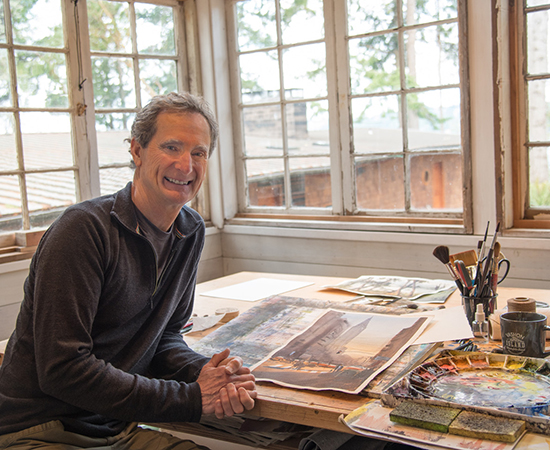 Photograph by Kathleen Webster
Jeff Good is a Signature Member of the National Watercolor Society, Western Federation of Watercolor Societies and the Southwestern Watercolor Society. His work has been exhibited nationally and internationally over the past 13 years, traveling to Italy, South Korea and Tokyo. He has received numerous awards for his paintings.

To see more of Jeff Good's work,
go to: https://www.jefflgoodart.com
All artwork copyright Jeff Good