Hit the Road!

Perspectives No. 367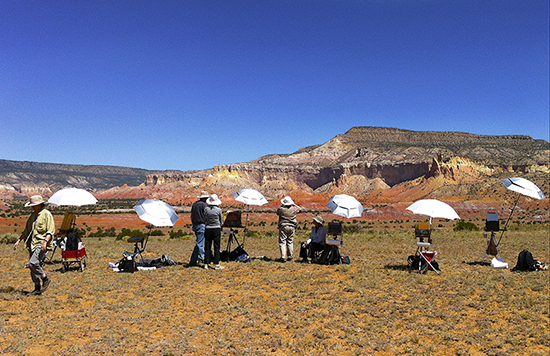 When we started The Artist's Road back in 2010, one of our missions was to share our painting travel adventures and perhaps encourage others to try them as well. Our yearly workshops are part of that effort, and are designed to make it easier for artists to travel and paint in interesting places with a like-minded, friendly group. And, unlike many of the other workshops around, we call ours Painting Holidays, which more accurately describes the kind of relaxed, pleasurable learning experience we provide. So far, this year, we have scheduled two Painting Holidays, which we think you will want to know more about.

Our first trip is scheduled for June 10th - 14th, and will take place in Abiquiu and Ghost Ranch, New Mexico. Anyone who knows Georgia O'Keeffe's work has heard of Ghost Ranch, but if you have never been there, you are in for a visual treat. The first Painting Holiday we organized there, back in 2012, was so inspiring and fun that we think it's time to go back again. Our lovely base in Abiquiu gives us easy access to 360-degree panoramas of high desert scenery, spectacular rainbow-colored rock formations, intimate Chama River views framed by huge cottonwoods and the remarkable turquoise waters of Abiquiu Lake, just for starters. Ann and I will be your guides to this wonderful part of New Mexico and through daily demonstrations and one-on-one attention, will also guide you on your journey to mastering plein air painting in oil. If this interests you, read all about it at www.johnhulsey.com/workshops. But don't wait too long, there are just 10 places available, and to make it easy, you can hold your spot now for only $250.

Our second trip is a very special opportunity for a few artists to join us in Provence, France, the first week of October. This European Painting Holiday is limited to just 8 painters, and we will spend nearly a week together based in the Vaucluse region of Provence. We'll enjoy warm days and cool nights without the crush of summertime visitors. Luxurious accommodations will guarantee a comfortable night's rest before we head out each day to paint. After exploring and painting nearby, we'll all pile into our nine-passenger van and go exploring the surrounding countryside and villages. Like our Tuscany trip in June, 2018, this trip will also be an inspiring experience of the highest order. Stay tuned for more details.