Hall of Fame
Perspectives No. 386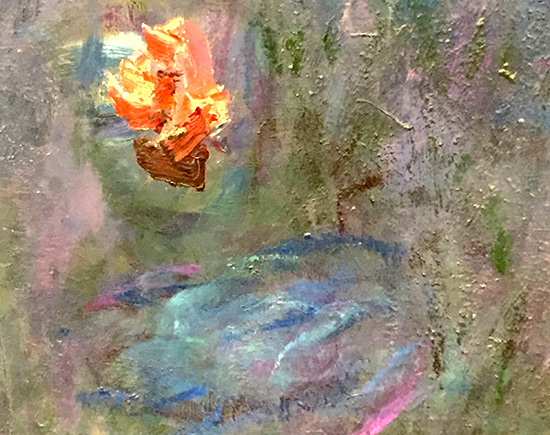 Detail from Nymphaea Claude Monet
Claude Monet was posthumously inducted into the Waterlily Hall of Fame at a presentation held in Giverny, France, early this summer (2019). The award was presented by Susan Davis of Lawrence Kansas, President of the International Water Garden Society (IWGS). It was received by Philippe Piguet, Monet's great-grandson. The ceremony was held at Giverny, Monet's home for over 40 years and was attended by water plant experts from four continents. Davis spoke to the group about the impact that Monet's paintings had not only on the art world but also on garden and water garden enthusiasts.

After the presentation, the IWGS continued their conference at the Latour-Marliac Nursery in Le Temple-sur-Lot, famous for providing the first waterlilies to Monet for his "jardin d'eau". Monsieur Latour-Marliac developed the very first yellow, pink and deep red waterlilies, exhibiting them at the 1889 World's Fair in Paris, where Monet (and the general public) saw them for the first time. (See "Monsieur Latour-Marliac and Monsieur Monet".)

Artists throughout history have been fascinated with the waterlily. But Monet's larger-than-life panels have become the quintessential imagery we associate with "nymphaea". As artists we are in awe of the impressive and radical waterlily paintings of Monet. As gardeners (and water gardeners), we are grateful to both Monet and Latour-Marliac for bringing the colorful and alluring waterlilies into the public domain.

On our recent trip to Paris we visited the Monet Nymphaea installation at the renovated Musée de l'Orangerie and also the Monet collection at the Musée Marmottan—two outstanding exhibitions.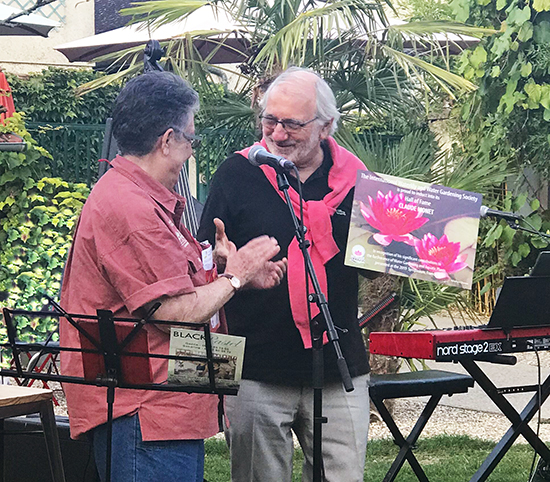 Susan Davis Presents the IWGS Hall of Fame Award to Philippe Piguet
From the IWGS induction ceremony:

The IWGS wishes to express our gratitude for all that Claude Monet has brought to us by inducting him to our Waterlily Hall of Fame!

Notre societé voudrait exprimer notre gratitude à Claude Monet, pour tout ce qu'il apporte, et nous avons l'honneur de vous announcer l'induction de Claude Monet dans le Temple de la Renommée du Nénuphar!

We are honored to have M. Monet's relative, Philippe Piguet with us today to accept this award in his name.

Nous sommes trés honorée que vous acceptez notre prix au nom de M. Claude Monet.

Thank you M. Piguet, for your participation in this joyous event!

Merci, M.Piquet, pour votre participation dans cette événement joyeux!