Glowing Embers

Perspectives No. 259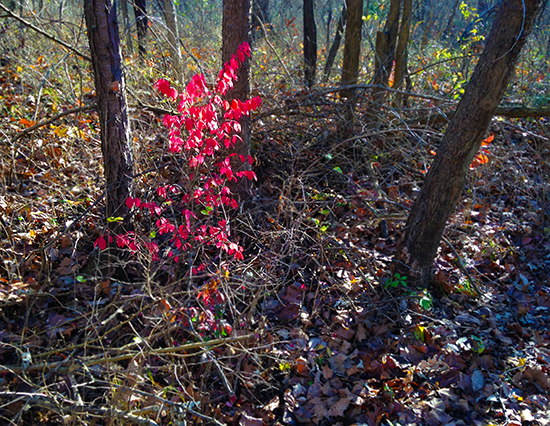 Photograph of Euonymus Alatus Monstrosa in the Forest © J. Hulsey

What is it about this time of year which can send us into a creative tailspin? Yes, the sunlight has diminished in hours and intensity, and that can account for part of the mood changes, no question. But, as we were walking through the bare forest and fields this morning, it occurred to us that it can also be caused by the riot of fall colors we just enjoyed. Painting in the light of those blazing days made for an easy glory on canvas or paper. Now that it is over, we feel kind of like the morning after a really sensational party, stumbling around in the wreckage and dazed by the cornucopia we just consumed. We are suffering from a visual hangover, and it takes some getting used to.

This is the part of the year which makes us draw deeply on our inner resources and sense of purpose as artists, and that in itself is a good thing to revisit every once in awhile. Having to really search hard for compelling subject matter in a landscape devoid of entertaining mountains, oceans, soaring cliffs or pristine alpine lakes sharpens the eye and broadens the spirit. Each one of us owns a landscape nearby, wherever we live. The best subject for any artist to explore is the one closest at hand. Delve deep into the commonplace and you will be rewarded with a jewel that belongs only to you. This is how artists differentiate themselves and forge reputations as individuals. What is it that uniquely moves us? Trust in that and look no further.

Today, we found that our burning bushes (euonymous alatus monstrosa) had been seeded by birds across our property and the neighbor's. As we walked through the naked forest, we were delighted and inspired to find little spots of bright red and orange leaves shining in the early morning sunlight. They are distributed randomly, but perfectly, along our way like little necklaces and crowns of color against the amber and brown leaves. And, each year they will get larger and create a new subject to paint, just when we need it. It is not a big thing, but it reminds us that we need not feel that winter's hand is heavy upon our shoulders. Nature also has a light touch and that alone should inspire the explorer in all of us.