Voices of Experience

Gerald Fritzler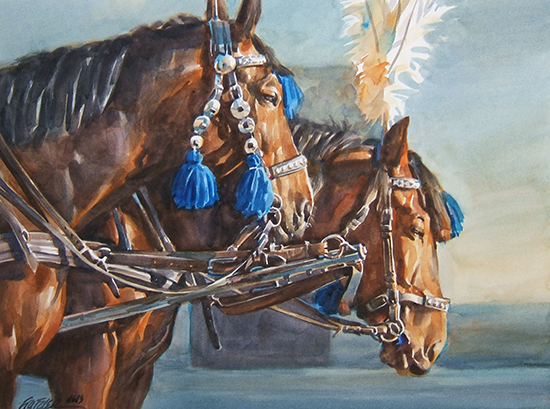 The Carriage Team 14 x 19"


"It is only after a great number of years painting with this

wonderful medium that you start to begin to understand

many of its fine qualities."


Gerald Fritzler has achieved many goals in his career as one of the country's top watercolor artists. He travels every year in search of new and exciting subject matter, painting on location as well as in the studio. His extensive travels have taken him to China, Morocco, Portugal, Spain, Tahiti, Italy, Greece, Great Britain, Ireland, Poland, Czech Republic, France, Germany, Switzerland, Mexico, and locations throughout the United States. At home he continues to paint the splendor of the Rocky Mountains and the red rock canyonlands near his home. Gerald says that his watercolors are a "slice of my life", a very personal view of the world that he experiences wherever he travels, both at home and abroad.

Fritzler watercolors have been featured in a number of fine art magazines including American Artist, Artist of the Rockies and the Golden West, The Artist's Magazine, Southwest Art, and Art of the West. His work has been published in numerous books including Best of Watercolor, Splash III, IV, and V, A Gallery of Marine Art, Contemporary Western Artists, Watercolor Expressions, A Simple Secret to Better Painting, and others.
Gerald is a member of the National Watercolor Society, Transparent Watercolor Society of America, California Art Club, the Rocky Mountain National Watermedia Society, Northwest Rendezvous Group and is a signature member of the American Watercolor Society and Plein-Air Painters of America (PAPA).
Did you grow up in an environment supportive of creativity and art-making? Were there other artists in your family? If so, did they play a role in your decision to become an artist?

My father was quite talented and helped me out with a number of school assignments that had to do with drawings and illustrations when I was young. I always responded well to his instructions and was amazed at the natural talent that he had. He never did get to utilize that talent, as he fought in World War II, and then spent all of his life working hard for his family as a mechanic. He totally supported my interest in art and helped send me to study at the American Academy of Art in Chicago. His support has helped me become the fine artist that I am today. I always felt that I was living out his dream of being an artist, as I continued with my own career and paying him back in a spiritual way, knowing that he was looking down on me and pleased with my achievements as an artist.

You received a formal education at the American Academy of Art in Chicago, where you were inspired by Irving Shapiro to paint in watercolor. Now that you are a recognized master of the medium, what advice of his still stands out in your mind as you paint today?

My formal training at the American Academy of Art in Chicago was the real turning point in my career as an artist. It was one of the finest schools for art study in the country. Two instructors at the American Academy at that time really had a major influence on my work. Bill Parks was my drawing instructor as well as a pillar of the school. His daily instruction, knowledge, and influence helped mold me into the artist that I am today. His daily thoughts, comments, and suggestions have stayed with me throughout my life. I still have many of his notes in my studio as well as one of his hats that he gave me years ago. Irving Shapiro was not only the Academy President, but he also taught design and watercolor. He was always working and never seemed to slow down! Every time I though of "Irv" as we called him, I felt like I was not doing enough. He ran the Academy, selected new students, taught watercolor, painted for galleries and shows, created art videos, and on top of it all was a great family man. One of his greatest strengths was to demonstrate the fluid beauty of the watercolor medium. As I watched him closely he always seemed to simply lay down passages and brushstrokes with complete ease. This got my attention, and after studying with him I was hooked on a medium that completely captivated me. One thing that he told me was to "always keep the darker passages in a watercolor transparent". "You never want to get too dark or too heavy with the dark areas—always keep good clean color flowing all around your painting". He would start a watercolor by squeezing out fresh paint on his palette. "As you begin a painting you always want to start with clean color and plenty of it". This I still do today both in my studio and on location. The spirit of both of these two fine instructors sticks with me as I work in my studio today.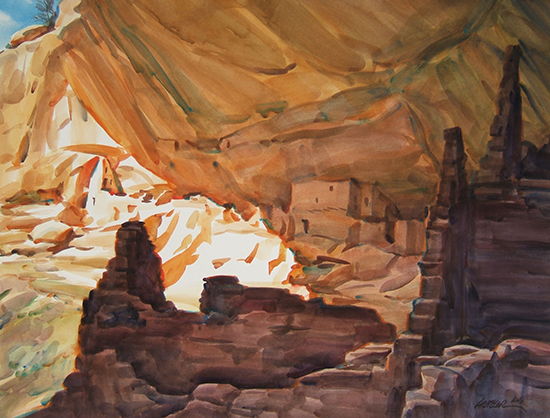 Long House Sunlight 28 x 36"

"Watercolor is not a medium to be totally controlled and

manipulated, and of course that is the very beauty of its

quality."
This is a free sample of a much larger, in-depth article available to our members. If you like what you find here, won't you consider supporting The Artist's Road educational mission through your membership . We know you'll love it - Guaranteed.


Want to know more? Become a Member and read the complete article today.