On Edge

Perspectives from The Artist's Road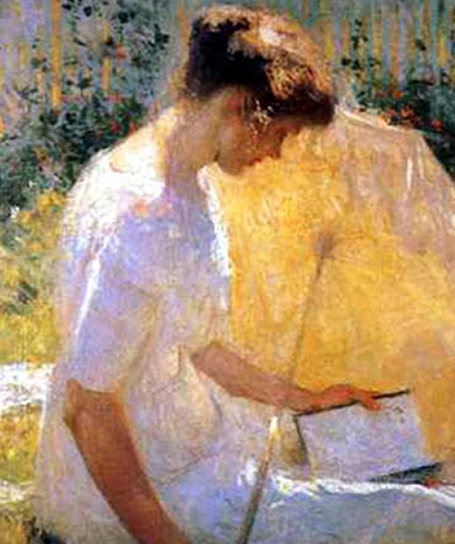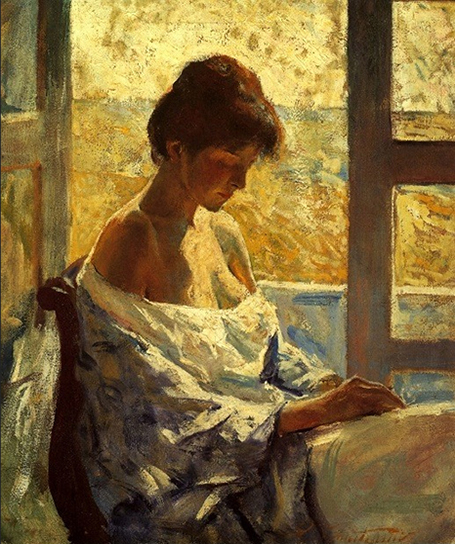 The Reader Oil Frank Weston Benson Woman Sewing Oil Charles W. Hawthorne
The two paintings above show how edges, especially edge contrasts can create different sensations within similar compositions. The Reader can be thought of as a modified impressionistic style, having been painted with dabs and strokes of paint. All edges are softened so as to create a sense of shimmering light. This painting is all about the light reflecting off the figure and transmitted by the umbrella. Volumes and modeled form are created through soft edges of color temperature contrasts, for the most part. Hawthorne's Woman Sewing is a little different, though. Here, strong value contrasts of muted color have been used to model the form of the figure sitting in strong sunlight. She is sharply defined against the soft background. The details of her face are hard to make out. Hawthorne skillfully employed color temperature changes within his edges and on the figure to rotate her in space. Overall, though, the mood here seems to be more somber.

Every object we see has a variety of edges, either sharp or blurry, bright or dull, and it is up to the artist to decide which edges the viewer should notice and which ones should support that focus. Hard edges tend to grab our attention, as do lots of little details in a painting. If all edges are hard and in focus in a painting, how are we to know what is important? This is often the problem with using photographs as reference for paintings. The camera doesn't know, unless we manipulate it, what we want in focus and what we don't.

Edges are also crucial to creating a sense of volume in forms. Forms which rotate or turn away from us will have softer edges on their extremities, just before the illuminated surface disappears behind itself. Were we to paint all the outside edges perfectly sharp, the form would have a paper cut-out look to it against the background. This is a lot to keep in mind. Fortunately we don't have to re-invent the wheel, so to speak. Here are some of the lessons taken from the Masters to help understand how to use edges for maximum effectiveness in our paintings:

The center of our vision sees in sharp focus. Focal points typically have sharp edges.

Sharp edges are higher contrast. Soft edges are lower contrast.

Peripheral vision is always in softer focus. Paint your peripheral elements with softer edges.

Strong light produces harder edges.

Soft light produces softer edges.

Edges appear softer when they are next to a similar color or value.

Edges appear harder when they are next to colors that contrast sharply.

Clear air produces sharper edges.

Edges become softer in distance.

Movement produces softer edges.

For more information on edges, see our Members' article, How Edges Make a Painting Sing.