Driven to Abstraction

Perspectives No. 379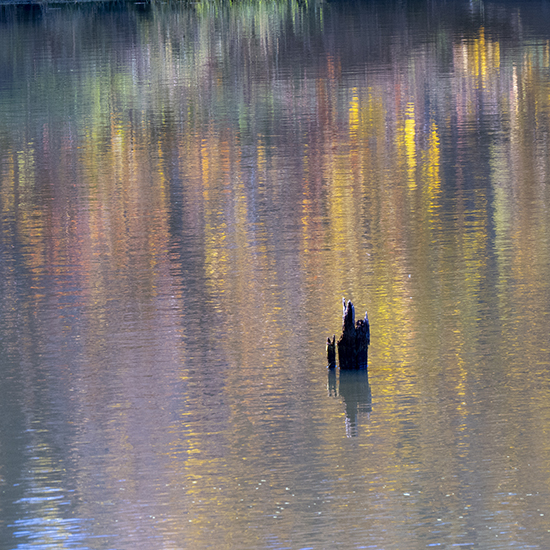 I have been a representational painter for more than forty years now, and one thing that has become clear to me is this profound truth: whether representational or not, every painting of nature is an abstraction. What I mean by that is that any picture we might make is, by definition, not the thing itself, but a symbol, or suggestion of the thing. And if that is the case, the doors are wide open to push the abstraction as far as we think we can and still call it nature. This opens up a limitless field of inquiry and exploration for artists. The challenge in this kind of abstraction is to be able to evoke that flash of recognition in the audience. We want them to see the original reference at the same time they see the creative re-presentation of the subject by the artist. Through art, we can share a different way of seeing the world we all think we know so well.

One can also train the eye to find ready-made abstraction in nature. We can then find these compositions everywhere around us. It took me a long while before I could see well enough to do this, but once I turned the corner, a new world opened up which had been hiding in plain sight, tucked into everything I saw. Using my own sense of design and composition, I began to use my camera to find these wonderful abstractions wherever I looked. This realization both challenged and enriched my landscape work. Challenged it, because I saw multiple paintings in every composition that I chose to paint. This made my world so much richer in terms of its potential for expression in my art and changed my working process. I used to devour landscapes like a locust, moving from one visual meal to the next. I now return again and again to the same places. Each time I return, there is a new aspect of the subject which I had not been able to explore in the previous work. Every time I set up my easel, I find four or five subjects to explore, but I can only do justice to one at a time. (I have gotten into trouble before trying to include too much.)

Far more important than process, though, is the somewhat magical experience of revisiting a natural place many times. Chaucer wrote: "familiarity breeds contempt", but I have found the opposite to be true when contemplating nature. When I can sit for awhile and re-look at a subject which I have become very familiar with, a funny thing happens. It seems to open up visually to me like a flower slowly blooming. I begin to see more of the structure and shape of the subject. I begin to see how the parts relate to the whole and the overarching union of all things in it present and past. The old stump in the pond speaks of a beautiful tree, which perhaps once provided a home for squirrels, owls and wood ducks, and now, fallen into the water, provides a home for fish and turtles. This reminds me of my own mortality and presence in this system. I notice the Kingfisher, who, ignoring me, continues to race around and suddenly dive full speed into the water. I trace the wake of the bank beaver as he does his work. Then I see a painting—real as anything, but also purely an abstraction—for how can I put all of that into a picture? And that is just a small part of what keeps me coming back again and again.