Drawing with Pastels
Perspectives from The Artist's Road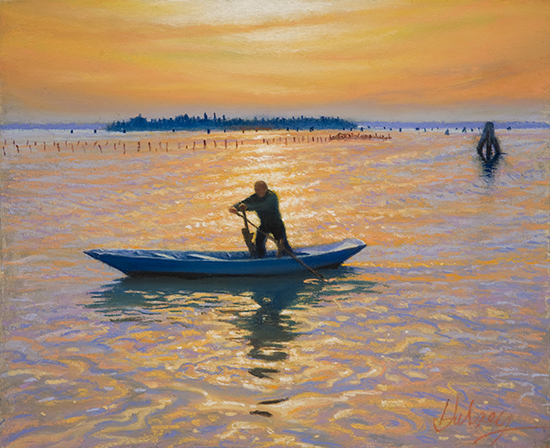 The Burano Rower John Hulsey

For those of us who love to draw and also love color, the natural choice is pastel. I began painting outdoors in pastel in the 1980s, when we were living in Garrison, New York, on the Hudson River. Winters are often long, cold and snowy in the Hudson Valley, and I needed a medium insensitive to cold that could be portable as well. I made my first plein air pastel paintings with a small set of 48 colors and quickly realized that I needed more—many more, to express what I wanted. Now, I have more than I need for any one picture so the daily job is to pare down to just what is necessary.

One doesn't need 500 colors to paint a plein air pastel, but having the right ones for the job can make all the difference. I try to select colors which I will find in a given location based on my observations there and the season I'm working in. For example, a fall season painting in Vermont will require a selection of oranges, yellows, reds and deep gray-violets. A temperate summer forest will need a variety of green and brown colors in cool and warms from light to dark. A city scene will require lots of grays and violets and perhaps blacks. The desert southwest, an entirely different palette tuned to those colors. That's why I change the selection of colors in my portable pastel boxes with the seasons and with the location.

Everything changed when I discovered that I could wet down my initial pastel block-in with a brush and some alcohol or water to create a painted background from my initial work. It is similar to the Venetian oil painting method of a tonal underpainting, only in full color. This painted surface creates a thin colored background that is essentially glued down to the surface, preserving the tooth for additional layers of chalk. Now the painting can be a denser and richer surface because the initial tones are embedded, allowing for more build-up of additional layers without plugging up the grit of the paper or board. One can use the very softest pastels, like those made by Sennelier or Terry Ludwig to add finishing touches of color right up to the last stroke.

Most importantly, I always carry a good selection of warm to cool grays, especially in dark tones. What I mean by grays are not necessarily grays made from black and white, although those are also useful to have. The workhorses that I love are those grayed tones of brown, green, yellow and blue. Colors that are mixes of two complements like a "cool orange", or a "reddy-green" and a selection of gray-violets are very useful. These grays make up the largest percentage of the image, while the highlights, or brightest local colors are added only at the finish. As the great Joaquin Sorolla said, "The money is in the grays", meaning that the painting should be built on a foundation of colorful grays. Just look at the lovely green-grays in the foliage in the painting below by Sophie Amauger. (Members, read her interview here: Voices of Experience - Sophie Amauger.)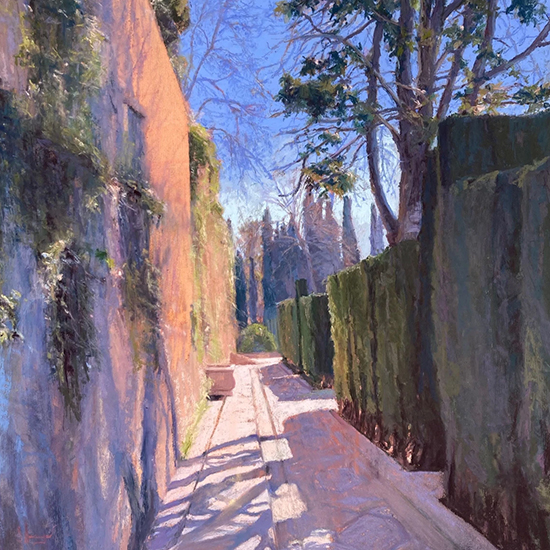 Alhambra I © Sophie Amauger
Surface is also very important when drawing with pastel, and there are now many great papers and boards from which to choose. Wallis and Richeson make some extremely good surfaces, along with Dakota and Artfix. I have tried all of them, and often use the lightweight Richeson Gatorfoam boards in gray or brick red. I also prepare my own surfaces. Different textures yield different results, and it is important to try many different ones to find favorites. To make my own surfaces, I use Golden Acrylic Pastel Ground on top of a coat or two of gesso on a suitable substrate, like masonite. This ground can be applied to any paper or board. If more tooth is wanted, additional marble dust or grit can be added to the ground to create a unique custom surface. The painting Aspen Light II was painted on a custom ground, and it has a different look to it than the other very uniform commercial surfaces.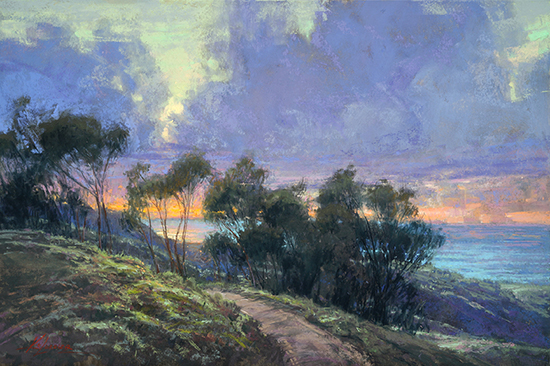 Sailor's Delight Looking West Along El Rancho Escondido © Kim Lordier
Pastelists usually like to work on a colored ground, and here, too, there are many choices. Working on a color has advantages over working on white. The color of the ground can serve as a major unifying tone throughout the painting, and therefore do some of the work. The other advantage is that painting on any value darker than white makes subsequent value comparisons easier. Look closely at Kim Lordier's painting above and you might detect her colored ground peeking through here and there. (Members can visit our interview with Lordier here: Voices of Experience - Kim Lordier).

A big part of the ease and fun of pastel is in mixing colors on the paper. One can drag the flat side of a stick to create a solid tone here, push an edge down hard to make a line there, and vary pressure on line work to create a sense of thick and thin. One can also use the traditional technique of cross-hatching to blend tones, or rubbing one color into another with fingers or a stomp to create a new tone from separate strokes of color. Over all this initial work, there is the irresistible urge to create sharp calligraphic marks and strokes—evidence of the artist's hand, which can energize a work and excite the eye. There are so many possibilities for creative invention with the medium that it encourages experimentation.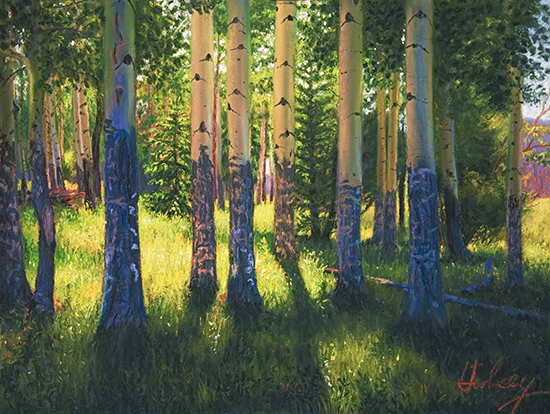 Aspen Light II John Hulsey
Above all, pastel invites us to play with colors, values and ideas, and this is so valuable to the creative process. Each new blank surface represents a low-risk, high-reward playground for art-making. And as we know, out of play, have come many great works of art. Try it for yourselves, you may fall in love!

Visit Sophie Amauger's website here: https://www.sophieamauger.com/?lang=en
Visit Kim Lordier's website here: https://www.kimfancherlordier.com
Visit John Hulsey's website here: https://www.johnhulsey.com