Case-in Point

Perspectives No. 416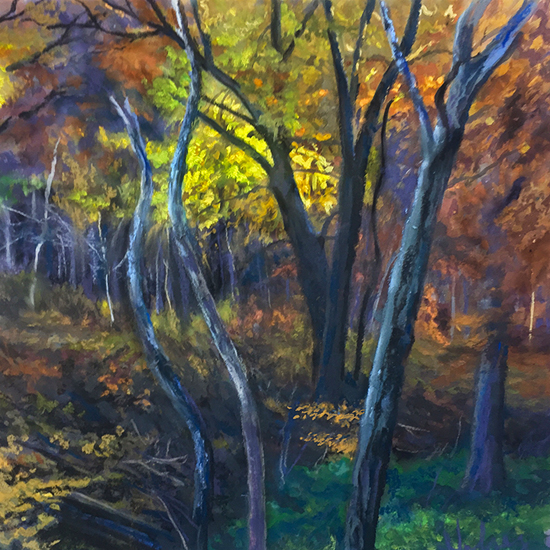 Fall Cadenza (study) Watercolor, Casein and Pastel J. Hulsey

Many artists are not familiar with casein paint. I bought a set of Jack Richeson and Co. casein colors while teaching at a workshop in Wyoming a few years ago to give them a "road test". I knew that my friend, James Gurney liked to use them for sketching and I was curious to see why. Once I began using them, I immediately recognized their usefulness for plein air work.

Casein is an ancient type of milk-based, water-soluble paint which has been found in prehistoric cave paintings. It was also commonly used during the age of the Pharaohs in Egypt—so it has permanence! Known for its lustrous surface and vibrant colors, modern formulations of casein emulsion have the important advantage of being resistant to water when they completely cure. This fact, along with the speed of application, has made it very attractive to commercial artists, sign painters and illustrators over time. I often combined gouache with my watercolors when I created illustrations for publishers in New York, but I didn't know much about casein back then. I wish I had.

I have started using casein emulsion paints in the studio to create relatively quick color studies to "try on" a subject before it becomes a larger oil painting. In the past, I often have used watercolor for this but casein is visually more like oil paint. When I am painting with it, I can use water to thin it for washes, or use it straight from the tube for thicker, more opaque, impasto passages. Adding a bit of white with water brightens the transparency of colors. I can add extra emulsion as a paint medium to change the sheen from flat to eggshell. Casein can even be buffed to a satiny sheen when thoroughly dry, which takes about two weeks for thick paintings. As with watercolor or gouache, one can paint on paper or any surface that accepts water-based paint, but, because dry casein is brittle, it is best to paint on a surface which is rigid.

I have now developed a hybrid method of using pastel over casein to create my studies. I start with a mounted piece of prepared pastel paper and apply casein over that, gradually building up the image out of the background. Then I work pastel on top of that. This allows me to get a greater range of deep, soft and opaque effects out of the final study, and that helps me to determine if it is worth the effort to enlarge it into an oil. The results are so pleasing that some of these fast studies will be included in my museum exhibition, Transcendence: Truth in Nature.

Look for an in-depth upcoming article about casein paint. We will compare it to other water-based paints and tell you everything you need to know to explore this remarkable medium.

Keep painting!