Camouflage in Nature

Perspectives No. 358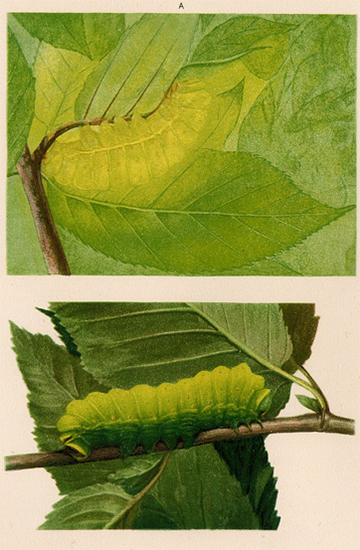 Luna Caterpillar Upside Down and Right Side Up
Illustration by Abbott Handerson Thayer

The beauty of painting outdoors is in the opportunity to spend long stretches of time observing. Nature reveals more and more of herself to us the longer we look. Seemingly simple subjects show their complexity, educating us along the way.

American artist Abbott Handerson Thayer (1849 - 1921) was a painter of landscapes, animals and portraits. His obsession with nature led him into the study of the camouflage of animals. He became well-known during his lifetime not only for his paintings, but for his book, Concealing-Coloration in the Animal Kingdom, first published in 1909. But Thayer was not a scientist, and in attempting to apply his theories of camouflage broadly across the animal kingdom, he was harshly criticized by other naturalists and even at length, by Theodore Roosevelt.

Although he may have overstated his theories, Thayer had made some fascinating observations. "Countershading" is sometimes called Thayer's law. He observed that many animals are darker on the upper sides of their bodies and lighter on their undersides. When we paint animals, we portray their dimensionality by painting shadows, usually on the undersides of the animals. By reversing this coloration, nature has created camouflaging that allows some animals to appear flatter and more concealed in their environments. (Of course there many be many reasons why so many animals are darker on top and lighter underneath—the dark color may help to dissipate ultraviolet damage to skin or help animals to retain more warmth from the sun.)

Countershading is certainly not seen in all animals, as Thayer had attempted to put forth. It is seen in squirrels and deer, some insects and birds, penguins and marine animals. Interestingly, reverse countershading is also seen, as in the luna caterpillar. Because the luna caterpillar spends a great deal of time feeding upside down, it makes best use of reverse countershading for its camouflage. And animals with very strong natural defenses, like the skunk or honey badger, do not have countershading camouflage at all.

In another coming together of art and science, Thayer had realized that the very thing that artists must use in order to accurately represent the dimensionality of an animal on a flat canvas, was the thing that nature was using to protect some animals by helping them to look two-dimensional in a three dimensional world.