Artist Profile

Bob Bahr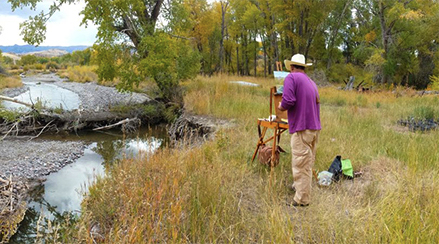 Bob Bahr Painting in Wyoming

ob Bahr may know more artists than anyone we've ever met. We first met him five years ago at the Susan K. Black Workshop in Wyoming, where we were hired to teach painting. From his years of writing for American Artist and PleinAir Today, he has had the opportunity to interview hundreds of contemporary artists across the United States. You may have seen his byline on those interviews and other interesting fine arts related articles. That immersion into the arts influenced him into exploring painting himself. He shares with us his development as he explores painting the landscape en plein air.

Among other things, you are both writer and artist. Can you tell us about the evolution of both?

When I was a kid, I wrote stories and illustrated them. My teachers said I wrote well, and the positive reinforcement nudged me into writing. That didn't happen with my interest in art. I wrote about popular music for ten years after college, and was heavily involved in the Louisville, KY music scene. (I have a minor in music.) I got too old to properly write about pop music, and started doing more features. When I moved to NYC in 1997, I got a job at a jewelry trade magazine, writing about watches and gemstones, and heading up their website. That was a pretty vapid subject, in my estimation, so I quit soon enough. I freelanced for a while, then took a year to write a horrid sci-fi novel and work in construction. Then I answered an ad for an editor at American Artist magazine. I got the job, amazingly. I started as a production editor, climbed the ladder to managing editor and was the project editor for Drawing magazine from its inception. I met my wife, Lynne, at the magazine. I also worked for a boss that I respect, Steve Doherty. It is no small thing to work for someone you respect. Then venture capitalists bought the magazine and drove it into the ground. I quit. American Artist folded, predictably, after the venture capitalists squeezed what they could from it. After wading through the sewer of content mills and getting paid by the click for a while, I started writing for Steve Doherty again at PleinAir magazine. The features for the print magazine were and are great fun to research and write, but I also was the editor of PleinAir Today, the weekly e-newsletter for PleinAir. Ten articles, thousands of words per week. I got burned out on that after four years. My time with PleinAir is coming to a close and now I am concentrating on a book about the history of visual art in Wyoming's Wind River Mountains.

In terms of art, I have always had friends and lovers who were painters and sculptors. I have always written poems about art. When I was first hired by American Artist in January, 2003, I discovered how many media and approaches there are to explore within art. I bought everything, from printmaking materials to colored pencils to oil paints. Every time I wrote about a new technique, I tried it. My artwork was dreadful, but I didn't care. I was exploring.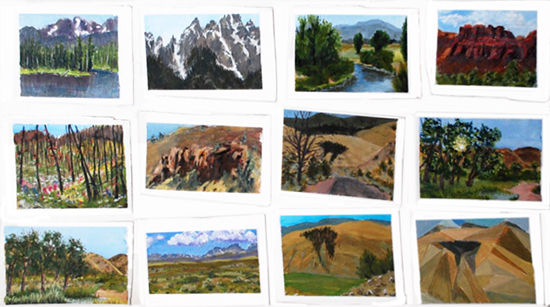 A Series of Daily Paintings from Wyoming


Read more about Bob Bahr's painting and writing career in our in-depth interview.
To read it and see more of his work, become a member of
The Artist's Road today by clicking here.

Already a Member?
Lucky You! You can go immediately to the full interview here.

Visit Bob's website at:
http://www.babahr.com