From Pen to Brush

Bob Bahr's Journey into Paint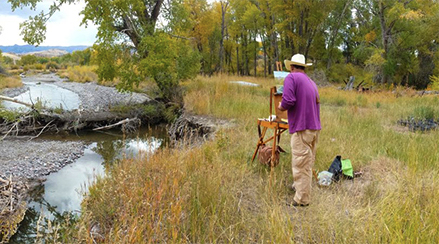 Bob Bahr Painting in Wyoming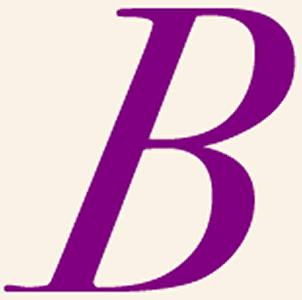 ob Bahr may know more artists than anyone we've ever met. We first met him six years ago at the Susan K. Black Workshop in Wyoming, where we were hired to teach painting. From his years of writing for American Artist and PleinAir Today, he has had the opportunity to interview hundreds of contemporary artists across the United States. You may have seen his byline on those interviews and other interesting fine arts related articles. That immersion into the arts influenced him into exploring painting himself. He shares with us his development as he explores painting the landscape en plein air.

Among other things, you are both writer and artist. Can you tell us about the evolution of both?

When I was a kid, I wrote stories and illustrated them. My teachers said I wrote well, and the positive reinforcement nudged me into writing. That didn't happen with my interest in art. I wrote about popular music for ten years after college, and was heavily involved in the Louisville, KY music scene. (I have a minor in music.) I got too old to properly write about pop music, and started doing more features. When I moved to NYC in 1997, I got a job at a jewelry trade magazine, writing about watches and gemstones, and heading up their website. That was a pretty vapid subject, in my estimation, so I quit soon enough. I freelanced for a while, then took a year to write a horrid sci-fi novel and work in construction. Then I answered an ad for an editor at American Artist magazine. I got the job, amazingly. I started as a production editor, climbed the ladder to managing editor and was the project editor for Drawing magazine from its inception. I met my wife, Lynne, at the magazine. I also worked for a boss that I respect, Steve Doherty. It is no small thing to work for someone you respect. Then venture capitalists bought the magazine and drove it into the ground. I quit. American Artist folded, predictably, after the venture capitalists squeezed what they could from it. After wading through the sewer of content mills and getting paid by the click for a while, I started writing for Steve Doherty again at PleinAir magazine. The features for the print magazine were and are great fun to research and write, but I also was the editor of PleinAir Today, the weekly e-newsletter for PleinAir. Ten articles, thousands of words per week. I got burned out on that after four years. My time with PleinAir is coming to a close and now I am concentrating on a book about the history of visual art in Wyoming's Wind River Mountains.

In terms of art, I have always had friends and lovers who were painters and sculptors. I have always written poems about art. When I was first hired by American Artist in January, 2003, I discovered how many mediums and approaches there are to explore within art. I bought everything, from printmaking materials to colored pencils to oil paints. Every time I wrote about a new technique, I tried it. My artwork was dreadful, but I didn't care. I was exploring.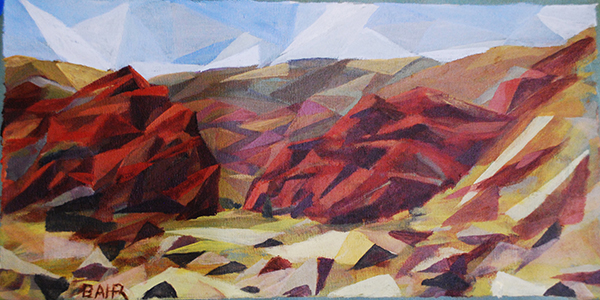 Red Pass 10 x 20" Acrylic
Both writing and painting are, of course, creative endeavors. Have you found personal expression in both?

The most creative type of writing is poetry. Journalism is fun because you have to find ways to be creative and engaging within some very rigid constraints (if you have ethics and wish to follow traditional journalistic practices.) I love journalism. Occasionally I will write a piece that I think has a nice shape to it, that is vivid and full of life. That makes me feel great. It's not an artistic masterpiece. It shouldn't aspire to that. I want it to be like a well-designed airplane or car, with nice lines, which functions beautifully. I write short stories in airports and at other times when I am forced to do nothing. Those are usually weird and occasionally macabre. The short stories let me explore a totally different part of my writing brain. Most of my energy now is going into the Wind River book. Working on a book is scary. It's like building a skyscraper, and you start at the bottom of a hole, in the sub-basement. It's hard to believe you will finish, but every writing session results in progress, in another story.

Visual art seems like the freest art form of them all. Words are slippery—imprecise while confining. Music is usually chained to several conventions including the eight-tone scale. Nobody wants to see me dance! But visual art allows the delivery of a message or feeling that is unfettered by anything, save perhaps the two-dimensionality that a painting generally has. I make my living using words to describe things, but no matter how good I eventually get at writing, a painting will communicate more purely and directly—even a painting that isn't a complete success in the eyes of its creator.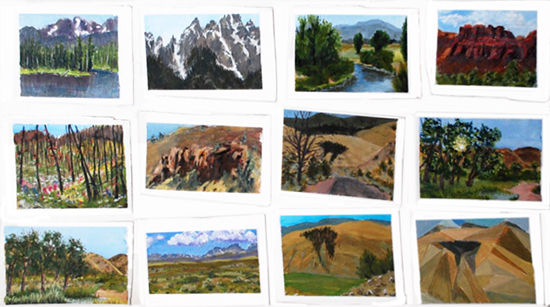 Early Mornings, Wyoming
We'd like to hear a little about your background. Did you grow up in a creative home environment? Were there artists in your extended family?

Not really. My mom loved music. She was very upfront about how music made her feel. She literally was overcome by beautiful passages in an opera. She taught me how to deeply engage with the arts, emotionally and intellectually. She liked visual art, too, and went to the Speed Museum in Louisville fairly regularly. My mother was supportive of creative expression, but mostly the way anyone should be with a kid. It wasn't suggested as a lifestyle.

Has your painting journey been mostly self-taught? Have you studied with other professional artists (taken workshops, for example)? Are there teachers or mentors who have most inspired you in your work?

This is a hard question to answer. I have covered dozens of workshops for magazines, and I have interviewed many more artists about their process. I've written step-by-step articles more times than I could count. I'd have to be an utter dunderhead not to pick up on things from some of the excellent artists with whom I've worked. But no, no classes. For several years, I was in a figure-drawing group that did a long pose once a week. I don't have a mentor. I do send photos of my work to artist friends for feedback. Who inspires me? Here's the thing: the answer is nearly everyone, and no one in particular. I'm lucky in that I encounter many different artists and approaches in my work, and usually, I admire what they are doing. So I may have an inspiration du jour. My inspiration du jour right now is Jim Laurino, a Connecticut painter who paints in a high key with tiles of color. Just wonderful. But several times I've had workshop leaders ask me who my favorite artist is, and I've said "Rothko." They got a dead look in their eyes and said, "Well, you paint nothing like him. I don't know how I can help you." I find this hilarious. Oh—I guess I do have an enduring respect for C.W. Mundy. He reinvents himself and his art on a regular basis. He is the Miles Davis of contemporary impressionism. He is very supportive of developing artists, and treats them like peers. I have seen firsthand how he will get totally jazzed by a technique or idea a younger, developing artist has, praise it up and down, and try it in his painting. The dude is always growing and always keeps an open mind.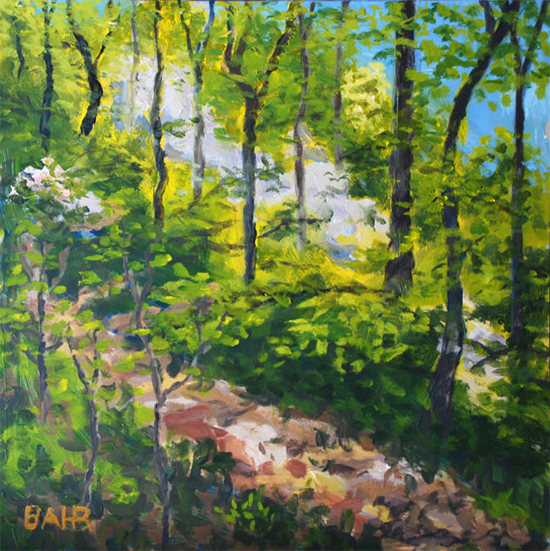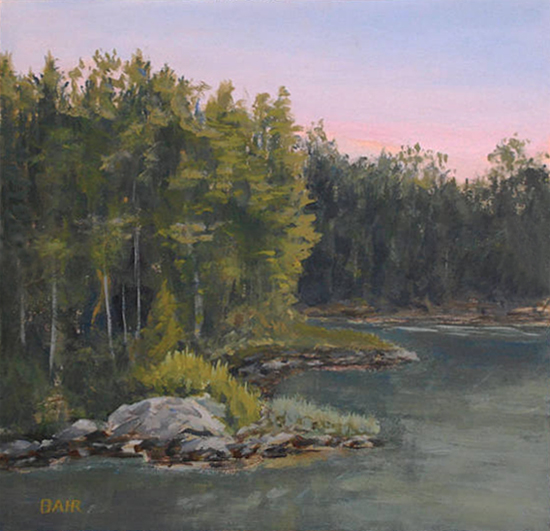 Sprung 12 x 12" Catherine's Place 14 x 14"

Are you focusing your work primarily on plein air paintings, or are you working in the studio as well.

I do both. I love being outside. Plein air painting does help me gauge color, and it forces me to edit. But I really enjoy painting inside, too. It's probably 70-30, leaning plein air. I have two sons, and sometimes if I will be in charge of them all afternoon, I'll set up my easel in the middle of our family room and paint. Right in the middle of everything. It calms them down, for some reason. I blast some Miles Davis—usually the Jack Johnson sessions—and get to work. They leave me alone; they find something to do. If I try to write, they will interrupt me constantly. For some reason, typing on a computer doesn't command the same respect from them that slinging paint does. Amusing.

Your work seems to be combining an element of abstraction within it. Has this been a natural evolution? Can you tell us something about the emergence of your triangle work?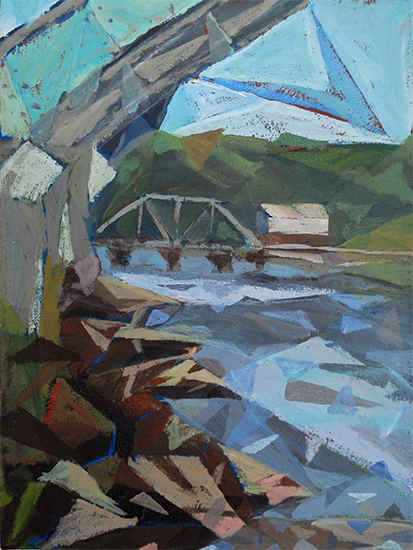 I'm drawn to abstract work, and I have been since college. I'm fascinated by how it works on the viewer. It is the anti-writing for me. The opposite of being literal. I feel something strong when standing in front of a Rothko. I've always wanted to paint abstractly, but couldn't. There's a rigor to abstract work, an austerity. I feel like with the triangle paintings, I'm jumping ahead—I'm probably not ready to paint abstractly to good effect. But it is so tempting! The triangles came about as I was painting a scene in the woods near our home in Inwood, at the northern tip of Manhattan, in spring of 2016. I saw an extreme vertical composition with a triangle shape of deep dark shadow at the base of a trunk at the top of the hill, and in the opposite bottom corner, a triangular structure made of large sticks that someone had made—a teepee shape. The triangles exerted themselves. Then, when I started to paint the light coming through the green leaves of the trees, I noted that there were shades of color in the sky and leaves, broken into triangles. The light was being reflected, refracted, and shattered into triangles. I was off and running. I don't know how many of the triangle paintings I will do, but wow, when I start one, I think a tornado could approach me from behind and I wouldn't notice! It completely consumes me, even more than a typical plein air painting, which as you know can make you forget to eat, shift your weight, avoid sunburn, etc. Finally, I love the idea of matching the exact colors in the landscape, being true to them, but playing with the actual scene. The essence comes through, maybe better than a more representational execution would—at least in my hands—I am not a technician. In my most successful triangle paintings, you can squint at the painting and it looks quite representational. I'm not sure "abstract" is the best way to describe these. Above: Rocks at the Foot, 12 x 9", acrylic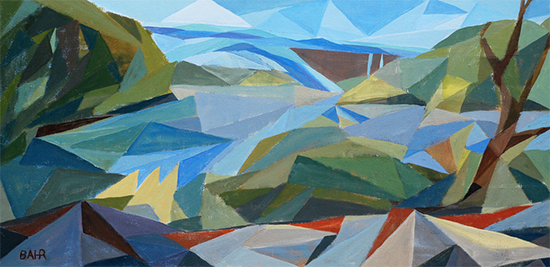 Autumn Bridge in Triangles 18x 36"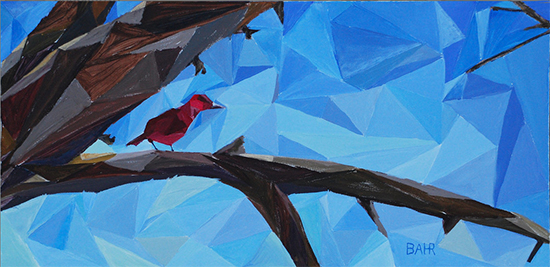 Tanager Tangent 18 x 26"
Would you tell us about your preferred materials and your processes? Are you primarily working in oil or acrylic?

I am working exclusively in acrylic right now, but I will go back to oils someday. I like both. If I embrace a medium in all its strengths and weaknesses, then it does good work for me. I'm picky about my paints—Golden is my preferred brand—but I am decidedly not picky about my surface. I don't need linen because my paint application is fairly thick. It's a waste of money for me because of my process. I work on stretched canvas, canvas-covered panels, wood panels, wood from old drawers I find on the sidewalk, unstretched canvas sheets I cut myself and tape to a panel, slivers of tree logs, multimedia paper, kraft paper, you name it.

After a dozen years of experimentation and exploration, I finally settled on a color palette, just this past summer. I squirt out Titanium White, Cobalt Blue, Ultramarine Blue, Alizarin Crimson, Cadmium Red Light, Cadmium Lemon Yellow, Cadmium Yellow Medium, Burnt Umber, Yellow Ochre, and often what I call a "and sometimes Y" color—a color that I may need for a given composition or scene. That can be Dioxazine Purple, Titanium Buff, or Cadmium Orange.

I draw on the surface with a graphite pencil or with one color of paint that won't work against me later in the process. That's a line drawing. Then I work from back to front, massing in the big shapes. Then refine them. I haven't decided if I like working on a toned surface better than starting on a white one. Both have drawbacks.

What are your hopes for the future of your painting work?

I paint for myself. I consider it a selfish endeavor. I make my living writing, so I don't have to stress about sales. I expect painting sales to pay for my materials and any travel I may do. I've always been the worst painter in any given group of painters because my writing work has put me next to some of the best in the business, and that has been extraordinarily helpful. It's like playing basketball with good players—your game is automatically elevated. In terms of development, I hope to continue to learn how to paint representationally and abstractly, and sell enough so my family doesn't trip over my paintings in our home.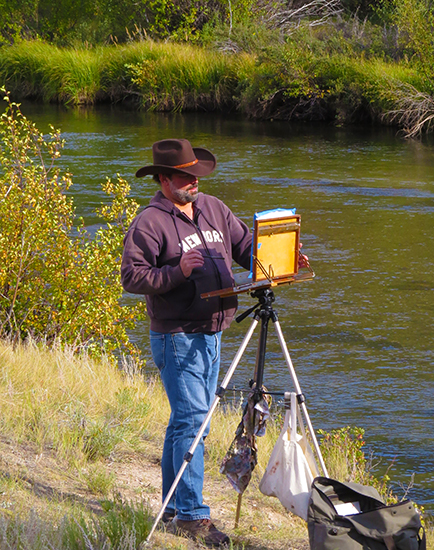 To see more of Bob Bahr's work, (both painting and writing) go to:
To read some of Bob'a articles about art and artists link here:

What Role Should Electronics Play in Art Education?

Lee Cable - "Goodnight" - The Charles Godnight Paintings



All Artwork © Bob Bahr