BLACK

is the New Black

Perspectives No. 441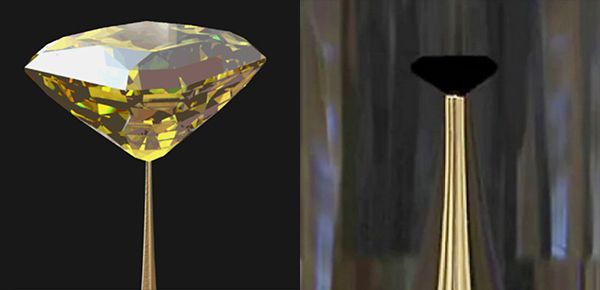 Image from Diemut Strebe video (see below)


Recent advances in materials engineering have produced the world's blackest black, called Vantablack. Vantablack is a pigment coating developed in 2014 by Surrey NanoSystems. The name is an acronym for Vertically Aligned Nano Tube Array Black. The company says Vantablack absorbs 99.965 percent of light, which made it the blackest of all blacks at the time.

Artist Anish Kapoor infamously controls the rights to use Vantablack in art, prompting artist Stuart Semple to develop Black 3.0, an acrylic paint to rival Vantablack that Kapoor is now banned from using!
In 2016, Artist-in-Residence at M.I.T., Diemut Strebe, proposed an idea to MIT engineers to create a black coating from carbon nanotubes which could make the most brilliant material on earth disappear. Both are made of the same element, but with different atomic arrangements. She views the project as a modern take on Heraclitus' "unity of opposites". Three years later, in 2019, they created an even blacker black than Stuart Semple's black. Known as the blackest material on earth, it is reportedly 10 times darker than any material created before, including Vantablack. The new material, also made of vertically aligned nano tubes, absorbs 99.995% of light.
"The artwork triggered the science", stated Ms. Strebe. She then proceeded to try to find someone willing to allow her to coat a large diamond in the material, effectively making it disappear. Many of the largest diamond retailers refused until she found one, L.J. West Diamonds, who was willing to allow her to make their 16.78-carat, two-million-dollar natural yellow diamond disappear. She titled the work, "The Redemption of Vanity", because she believes that it challenges the nature of value attachment. As a coup-de-grace, as it were, to such vanity, she arranged to have her project displayed at the New York Stock Exchange. "The stock exchange, as the holy grail of value determination, is almost like a sounding board to the artwork", said Ms. Strebe.

Here is a link to a video of the disappearing yellow diamond.