A Venetian Balcony

Perspectives No. 378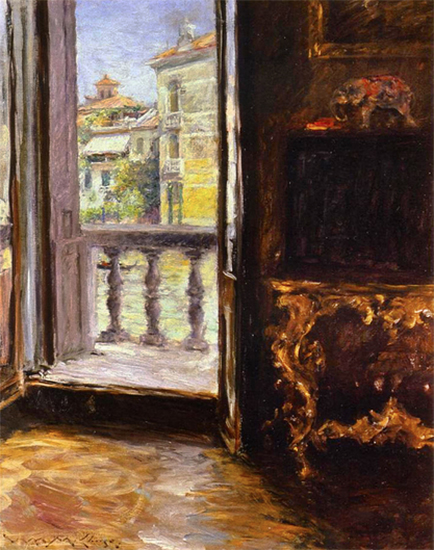 A Venetian Balcony 1913 William Merritt Chase
It was not until the example of the French Impressionists that outdoor studies gained widespread acceptance in America as finished works, able to stand on their own merits. This may well have been due in part to the exhibition brought to New York by the Paris dealer Durand-Ruel in 1886. The 289 Impressionists' works that were shown at the American Art Association in April of that year caused a sensation among American art collectors and artists alike.

Among the artists to see the Impressionists' show that April was William Merritt Chase. Chase had received a formal education in classical painting in Europe and had become very successful and well-known on the east coast for his portraits, interiors and light-filled paintings of the newly established parks around New York. His fabulously-decorated studio on Tenth Street in New York was a famous gathering spot for all the leading artists of the day. In 1891, with the backing of two collectors in Southampton, Long Island, Chase opened a painting school in Shinnecock Hills, where he taught a generation of young painters the art of plein air painting in classes held outdoors. His instruction also included teaching summer courses in Europe. During his final summer teaching abroad in 1913, Chase painted A Venetian Balcony.

The painting became the first acquisition of what is today the Albrecht-Kemper Museum of Art in St. Joseph, Missouri. Its purchase is a tale of perseverance and determination by a student of William Merritt Chase and a handful of committed local art appreciators.

A native of St. Joseph, Estelle Manon, along with other students, traveled to Venice during the summer of 1913 to study with William Merritt Chase. There she watched the famous artist paint A Venetian Balcony, an image of the sunlit canal outside the doors of his apartment .

Upon her return home, Manon and eleven other members of the Art League, took the first steps to act on their dream of creating a public gallery in St. Joseph. They decided to acquire A Venetian Balcony, for which Chase asked $1,500.00. He allowed the painting to be displayed locally by the group to further their fund-raising efforts for its acquisition. "For an entire year the Art League held fund-raising events including teas, receptions, and even an opera. Ms. Manon relates how she even solicited funds on local streetcars. League members also hung the painting in the linen department of a downtown department store and asked visitors to contribute if they so desired."*

Chase ultimately accepted $1,000.00 as full payment for the painting, the discounted price attributed to his admiration for the group's dedication to the cause.

* Thanks to Dr. Brett Knappe, Director of the Albrecht-Kemper Museum of Art for this inspiring story of a small but motivated group determined to bring art to a larger community.