Inspiration Close at Hand
Artists' Gardens
Kaye Franklin



Peonies 12 x 9" Oil © Kaye Franklin

In our ongoing fascination with the paintings that artists create from their own gardens, we highlight this week the work of Kaye Franklin. Although inspiration can be found far and wide, many of us have found "diamonds in own backyard". There can be great creative benefits to painting a more intimate and personal world throughout the changes of light and season.

Franklin writes, "I love painting flowers and I grow many of the flowers that are inspirations for my paintings. Many of the flowers are in pots which I can move around until I find the best composition and lighting. I work on linen canvas panels and mostly use bristle brushes. I start with a wash, very light in value, all over the canvas. The color of the wash is determined by the over all scene. I start with a sketch and design the composition with focal area my first consideration. I work dark to light and thin to thick."

"I plant hollyhocks and peonies in my garden because they are my favorites and I do love painting them as well."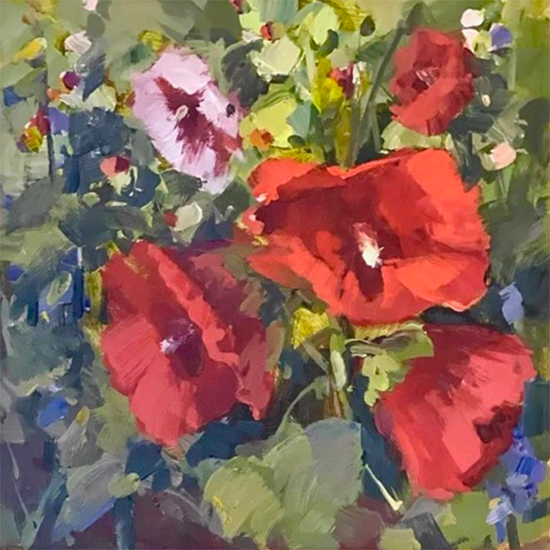 Hollyhocks 10 x 10" Acrylic © Kaye Franklin
Members of The Artist's Road, read more about Kaye Franklin and her work in our previous interview - Voices of Experience article. To see Franklin's most recent work, visit: Kaye Franklin Fine Art.

If you have paintings of your own garden landscape spaces that you'd like to share, drop us a line. We'd love to see your inspiration and its influence on your paintings.