Art Among the Poppies

A Watercolor Painting Holiday


in Tuscany - Part 1



Over the decades we have taught many painting workshops, both here and abroad, but this has to rank among the very best we have experienced. Not because we didn't have any hiccups — behind the scenes we had all we could handle! Even so, this wonderful week of travel, camaraderie and painting just wasn't going to be held back by anything. There were only four requirements that had to be met for this workshop:

1. Enjoy great food.
2. Drink good wine.
3. Have fun.
4. Paint!

With those four rules in mind, we made preparations on Saturday for the arrival of our students the next day. It all started at Rome's Fiumicino airport on Sunday, June 3rd, when we wheeled our newly-rented nine passenger van into the curb outside the arrivals terminal. There our happy and patient group of students awaited in the bright Italian sun—tired from their flights but excited to finally be on our painting holiday adventure. In a few minutes we were loaded up and on our way out of the busy airport to our connection with the Autostrade north. Once out of suburban Rome, the Autostrade winds its way through the beautiful rural Italian countryside, passing famous medieval towns, like Orte and Orvieto, many of them perched for defensive purposes on top of high rocky promontories. Our first stop, the Autostrade exit, would be at Chiusi, 168 km from the airport, so the students were able to settle in for the two-hour drive and get to know each other a bit.

Halfway up our route, I pulled off into a service area in case anyone needed anything and to grab a quick espresso at the cafe bar. Unlike in the U.S., in Italy you often must pay first and get a receipt which you hand to the counter person to obtain what you want. This can be a little frustrating in a busy and noisy service center, so I helped our students get their orders and soon we were back on the road again. At Chiusi we exited the fast road and got on the two-lane Strada Statale, or state highway, toward our destination for the week, the beautiful spa hotel Residence Casanova Wellness Center, just outside the village of San Quirico d'Orcia.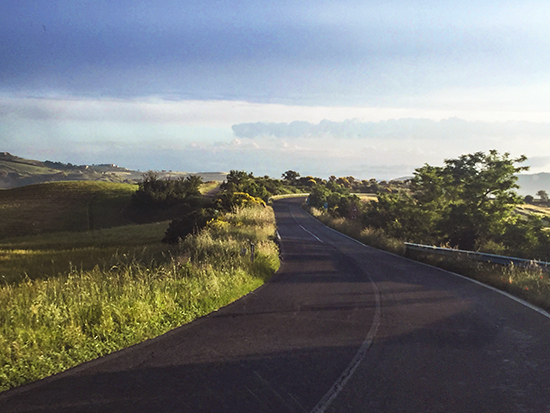 Driving on small rural roads in Italy, most of them without any shoulders, is not for the timid, and takes some getting used to. Painted lines seem to me to be interpreted as just a suggestion by some Italian drivers as they make the entire road their own! Blind curves are the most dangerous, and the famous hills of Tuscany are full of them. Fortunately, I have had some experience with this on a previous trip to the area, see: Plein Air Pastel Painting in Tuscany, so I knew what to expect. And this time, I had a considerable size advantage driving a large white van rather than a subcompact car. Oncoming drivers tended to move back over the line when they saw us, self-preservation overruling their zest for speed. While I still had to be careful and drive conservatively, we had no problems the entire week. I really enjoyed the driving - how could I not, driving through such beautiful landscape?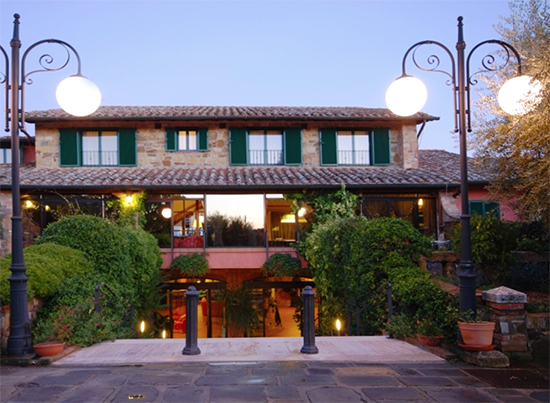 We chose our hotel because of its stunning location, comfort and because we had stayed there ten years ago on another painting trip. The hotel has continued to improve and modernize its facilities while retaining the Tuscan character of its architecture and furnishings. It is perched high on a hillside overlooking the Orcia River Valley, so all the rooms on the hillside have wonderful, if not spectacular views. We were in the heart of "picture postcard" Tuscany. The landscape is justifiably world famous for its beauty. Our air conditioned rooms were large by European standards with very comfortable beds. Everyone had a balcony or little patio on which to sit and soak up the view. There is a tennis court and a large outdoor swimming pool maintained at exactly the right temperature with plenty of lounging furniture for everyone to enjoy. Indoors, there is a large salt water pool with hydrotherapy,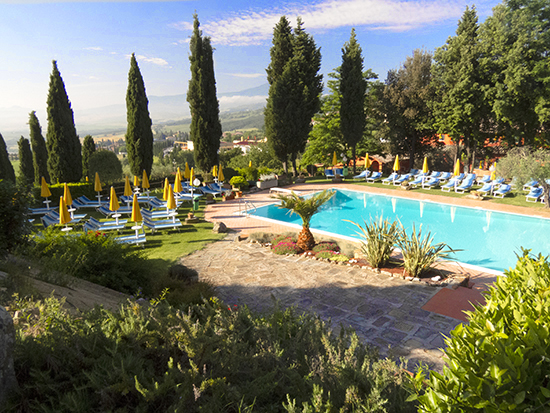 alternating water massage jets, a separate jacuzzi and sauna, all included with the room. For an extra fee, there is also an Etruscan grotto with a special circuit of mineral baths to take in. Some students opted to have the optional hot rock massages during the week - a real treat I am sure. A few steps away is a very fine and convenient restaurant also owned by the hotel. The hotel manager, Graziella, speaks English, and was a great help to us throughout. In short, a perfect place to have a painting holiday!

Knowing that we would all need to rest a bit, we first saw to it that everyone was checked in and had found their rooms for the week. Nothing was scheduled until 5:30 pm that evening, when we all gathered in the lobby for a champagne and snacks welcome party and mixer. Our group was but half of the larger workshop group we had gathered there. My workshop partner, Robert Copeland, was running his photography workshop alongside my painting one, and students could swap time in one or the other as they chose, perhaps learn something new about digital photography or watercolor painting. A glass or two of Prosecco and we all went out the door to walk into San Quirico for our first dinner together.
Eating Well in Tuscany

One of the new features of this painting holiday (and a special surprise for our students), was the dinners we had arranged for them. This year, we had spent a month negotiating in advance with some of the best restaurants in the area to be served unique, non-tourist menus. The average "touristic" menu features the same types of food in every restaurant, but we wanted the very best that the chefs could create. Because there were twenty-one of us, we could essentially book the chef for the night, and that is what we did. Each night we had arranged to eat at a different restaurant or outside at an agriturismo in the country. We would eat "a la famiglia", or family-style, so there would be no need to order and almost no waiting, either. A two to three-course dinner was to be provided with wine and dessert.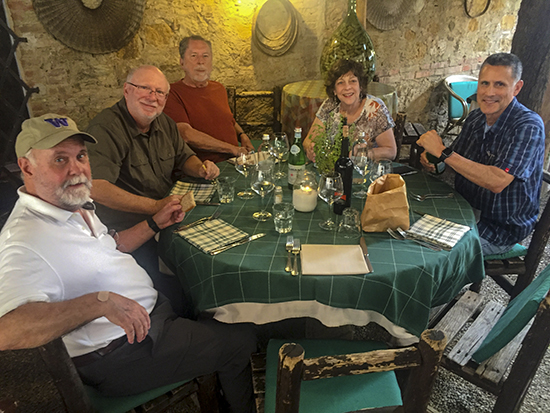 Our first dinner, "la cena" in Italian, was served outdoors on the patio of Al Vecchio Forno, in San Quirico. The menu started with a Tuscan risotto with fresh artichokes and local saffron - delicioso! The table wine was the local vintage - Vino Rosso di Montalcino—and it did not disappoint. Located on the west side of the valley, Montalcino is the birthplace of the Super Tuscan Brunello wines and the Rosso is a "baby brother" version of those famous wines. Our second course was braised Chianina beef cooked in vino Nobile di Montepulciano, another famous wine, but from the town on the opposite side of the Val d'Orcia from Montalcino. It was also marvelous. We finished with a puff pastry filled with sweet mascarpone cream and fresh strawberries. What a great way to start the week.

Time for Everything

We had also spent considerable time designing our itinerary so that our students would be able to see as much of central Tuscany as possible without spending hours riding in the van. Our selection of restaurants was then dictated by where we would be at the end of the day—not always an easy target to hit in rural Tuscany where the roads are small and speeds can be slow. It was important not to try and do too much in a day, also. After a morning of painting, time for sightseeing and perhaps shopping was built into each day, so that we could slip into the local pace of life, relax and enjoy "la dolce vita". Lunch each day was a two-hour unplanned adventure and everyone was free to eat wherever they desired. After lunch each day I planned to do a watercolor demonstration and then circulate among the group offering individual help.

Monday, Day One

Our first full day of class began at 8:00 AM, after the "prima collazione", or breakfast buffet included with the room. This was to be our regular routine for the week: meet at the van, load our gear in the back and head out to a painting spot we had chosen. Some painters took advantage of Bob's offer to join his photography group at 4:30 AM to catch the sunrise and photograph the famous Belvedere palazzo which was just a short drive from the hotel. This was well worth it for those able to shake off their jet-lag and get up early.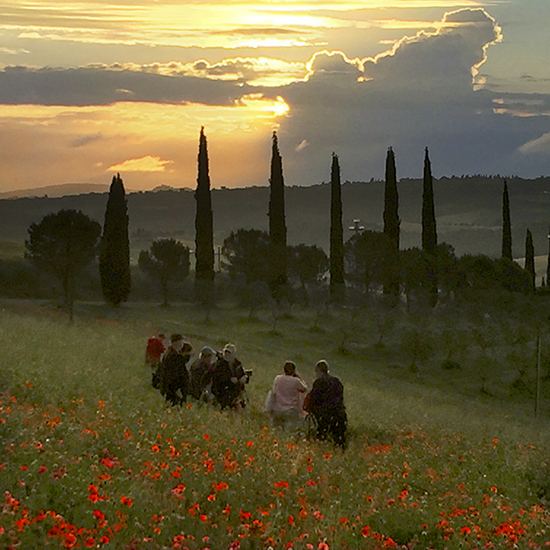 By 8:45, all of the gear was loaded in the van and we were on the road to the UNESCO World Heritage town of Pienza, about 25 minutes away. Like so many of the ancient towns in Tuscany, Pienza was built on top of a hill with high stone walls and ramparts for defense. Tuscany, like all of Italy at one time, was a collection of city-states, and the major cities and towns like Montalcino, Montepulciano, Siena and Florence waged centuries of war against each other for domination of territory, trade routes and resources. Towns were developed on the highest, most defensible hilltops. Pienza is one of those interesting towns surrounded by walls, made more exceptional because of the partial rebuilding of it during the Renaissance by Pope Pius II.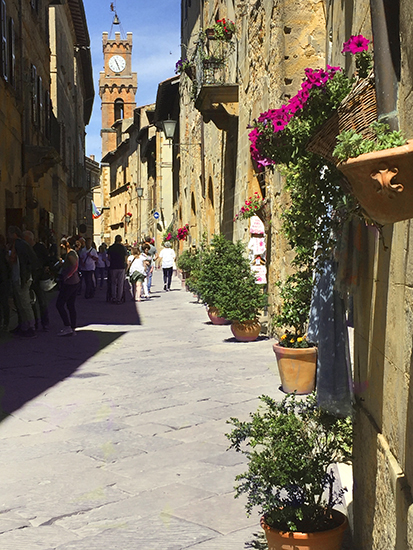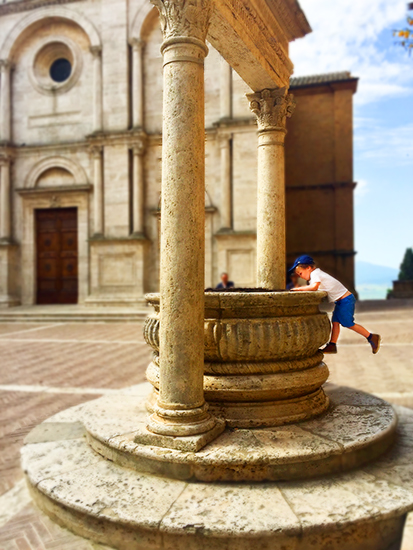 Built from 1459-1462, the center of the village, or "centro historico", was 'improved' by Pope Pius II (Enea Silvio Piccolomini), who was a native son of the medieval village originally named Corsignano. After he was elected Pope, he set about using his considerable papal resources to remaking his village into something more befitting his new station in life and renamed it Pienza. He did not live long enough to complete his renovation dreams making the village an interesting mix of rustic stone and carved marble edifices.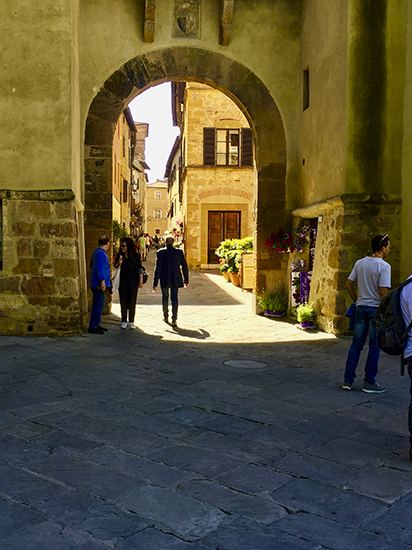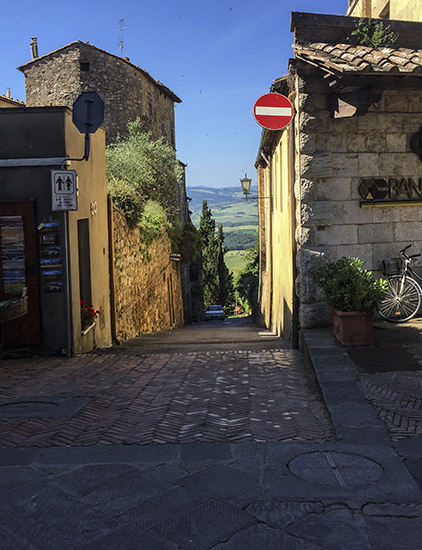 Despite the aborted renovations, the town has a rare charm and refinement for a farm country village and the residents go all out to beautify it with flowering pots of plants and waving flags wherever one looks. There is a lively tourist trade, so the restaurants and shops offer quality and abundance. I love the architecture and the way the light moves within the streets of this very manageable village. There are also scenic aerial views and vantage points all along the western wall which is topped with a wide, paved walk for much of its length.

I parked the van outside the old town and we walked along the wall for about a quarter mile before we entered the centro historico with its medieval gate. I slowly led our group through the streets, (some stopping to buy local ceramics), as we strolled toward our first painting location of the day. I had everyone set up their easels on the wide stairs which descend toward the outer wall on the north side of the Cattedrale dell'Assunta. From here we had several interesting subjects to paint, and I chose to demonstrate how to paint a distant landscape divided by foreground cypress trees.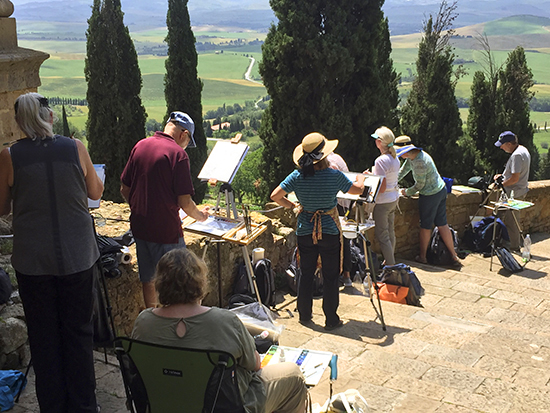 The Big Picture

This demonstration was largely about good composition and value management. It was also a great way to show how to layer washes over each other in a naturalistic way to create the illusion of distance. "Naturalism" is a term I use for painting the way nature looks and grows. Many of the best watercolors ever painted were made this way, and it takes knowledge of the medium and some skill to do it. The secret is in employing the strengths of watercolor to achieve a natural-looking result, rather than painting around objects or leaving holes to fill in. Those techniques always wind up looking to me like a cookie-cutter job. If the landscape disappears briefly behind a tree, we don't stop and start it again. We paint the landscape as a continuous element, because it is. The darker shape of the tree in the foreground will obscure the evidence of the landscape over which it is painted. This probably seems like an obvious thing to do, but in my teaching experience, it is not.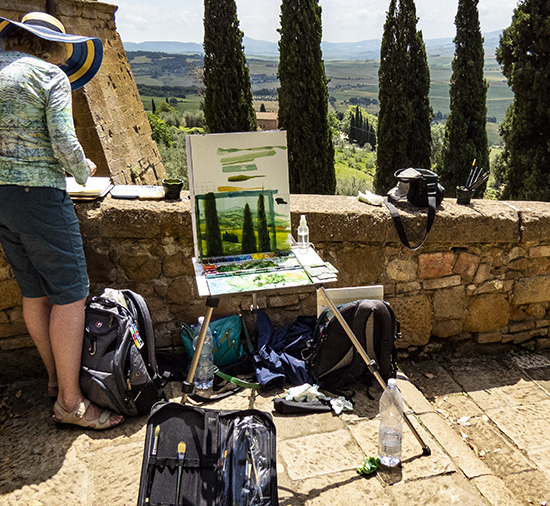 Since both my easel and my umbrella were still in my lost luggage, I had to struggle with this demo and paint very quickly in the hot sun. The bright light throws off values and flash-dries washes, making life difficult for the watercolor painter. I never paint under bright sun if I have a choice and I strongly encourage my students to buy a good umbrella. The proper equipment can make a difference.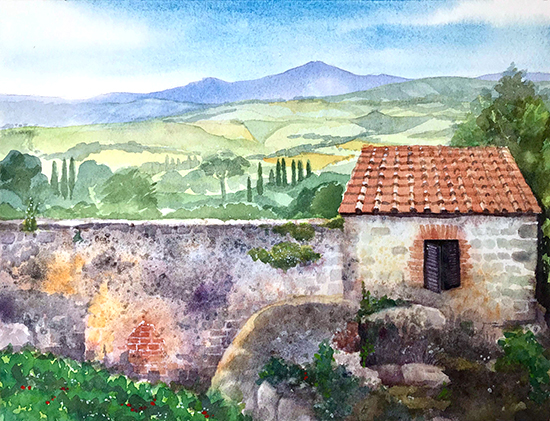 Pienza, Italia 9 x 12" Watercolor © Cindy Wheeler
See more of Wheeler's paintings at: CindyWheelerPaints
Umbrella or no, everyone tried their hand at this subject. We had quite a crowd of pedestrians watching for awhile. One older fellow actually leaned on one of the students to take a photo! By that time everyone needed a lunch and water break, so we packed up, walked down the stairs and around the corner into a lovely dark and cool trattoria called Idyllium, run by a talented young couple. Housed in the former stables of Pope Pius II, the place had a relaxed vibe and funky, eclectic furnishings. What was even more delightful was the food. Delicious and plenty of it —it didn't matter what anyone ordered—it was all good. While paying the young chef a compliment, I commented on the reasonable prices. He surprised me when he said in English, "We don't believe in stealing from tourists". Just another thing I love about Tuscany—pleasant surprises literally around every corner.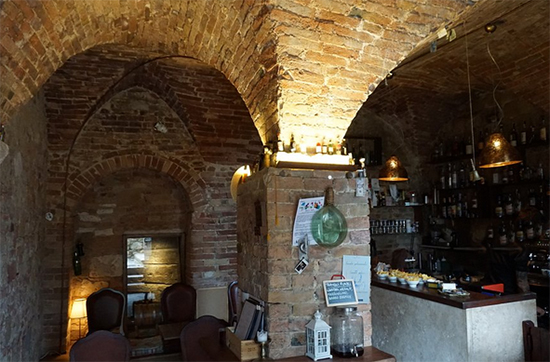 Painting Shadows

After a good rest in the trattoria, we gathered our gear and walked up the stairs and across the central square to a side street where I set up for a second demonstration. The light on the ancient stone combined with the evidence of age and all the patinas acquired over the centuries is part of what attracts us to these places. It is also the architecture of the buildings grafted on to each other—the rebuilt, leftover, handmade and partially-in-ruin structures, doorways and alleys which fascinate. I love the light of late afternoon and early evening as it plays on the walls and reflects back down into the shadowed streets. This demo would be about that light and shadow—tricky to do in the studio, and more so en plein air.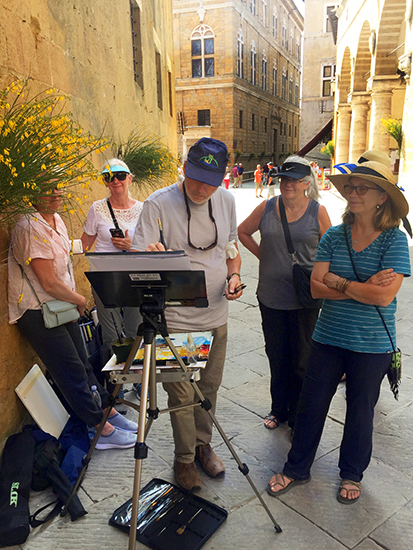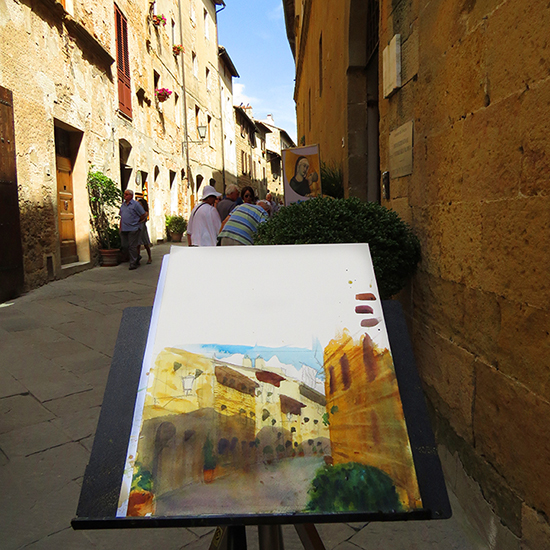 I quickly drew in my composition, making careful note of the angle that the shadow would cast across the design. There are two ways to paint this lighting condition: paint everything in without the shadow, and when that is dry, float a perfect shadow wash over the underpainting in one go. The second method is to tint the sheet with the color of the lighted portion of the building as before, but this time paint the details within the shadows wet into wet. Either way can work, but the wet method is much more difficult to get right en plein air. There is only one chance to get the details in and the risk is that one area of the initial shadow wash could start to dry while other areas are still very wet. Since we had a very warm day with a bit of a breeze, I decided on the first course of action for my demo. I wanted to paint all the buildings and the street in one big continuous wash. Starting with a mixture of Naples Yellow and Yellow Ochre, I washed in all the buildings and the pavement with my Richeson 1" flat brush. Immediately after that, I mixed a darker wall wash for the shadowed wall on the right using Burnt Sienna, Burnt Umber and Indian Yellow and laid it in so it would merge a little at the street. Then, using Prussian Blue and Dioxazine Violet, I washed in the pavement, and my first layer was done.

Next, I switched to a size 20 Richeson pointed round and painted in the sky with some Cerulean Blue before moving on to suggesting windows, doorways and rooflines. Its best not to overdo these shapes—they are not the focus of the painting and a quick stroke often looks better here.

Once all those details were established, it was time to lay in the big shadow wash. This must be done in one go. It can help to experiment off to the side so that the wash is dark enough when it dries. Here again I used my big 1" Richeson flat wash brush to quickly paint the transparent Dioxazine Violet shadow color. This dried in seconds, leaving only a few dry brush details like the flag and some light fixtures to paint over the top.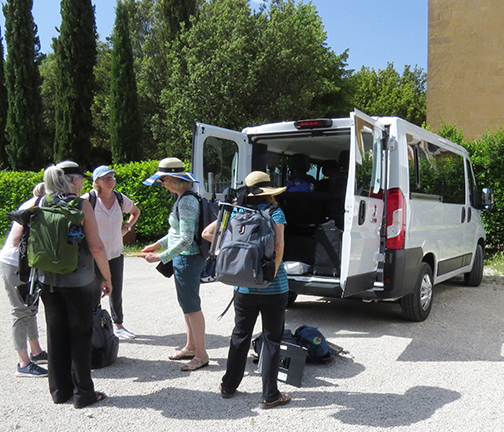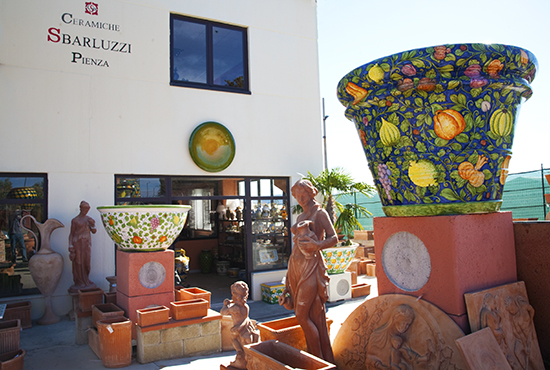 After the demo, we packed up and walked back to the van for our next stop—Ceramiche Sbarluzzi—a small ceramics factory located just east of Pienza. I had discovered it ten years ago and was amazed at the quality of their hand-painted ceramics. Our hotel, the Residence Casanova, has many fine examples of their gigantic painted pots, urns and ceramic tables sprinkled throughout the building. However, back then you had to know where the factory was, since it wasn't particularly focused on retail sales. Now, they have created a little wine bar next door, which tells me that they are catering increasingly to tourists. Their work is exceptional and worth going to see.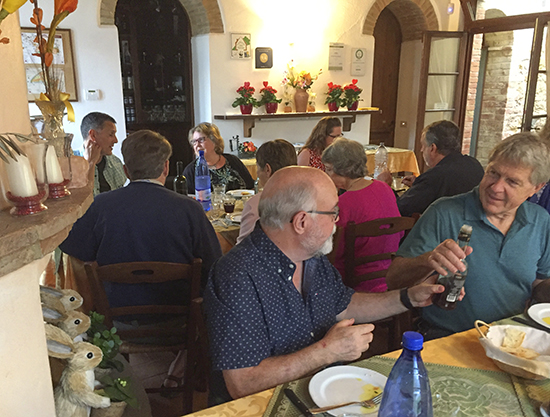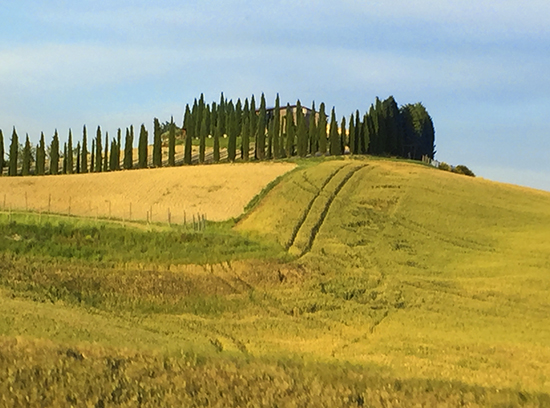 Dinner that night was at Agriturismo Bonello located very near to our hotel. Bonello occupies the top of a hill and possesses a wonderful 360 degree view. The owner, Luca Savelli, and his family run the B and B and do all the home-cooking for their guests. Luca is a very kind and generous host and served us a terrific meal accompanied with his father-in-law's homemade wine. (Homemade wine in the Val d'Orcia is like the really good wine we must buy here in the States). We started with toasted bruschetta covered in chopped fresh tomatoes and local olive oil before moving into the homemade tagliatelle with asparagus and mushrooms. Out of this world! The second course featured big platters of roasted Tuscan duck with fennel and a fresh salad from the garden. After that, we finished with a parfait cake. You can tell when a dinner crowd is happy—the noise level and laughter tell the whole story. Very satisfied and probably a little tipsy, they climbed into our vans for the short ride back to the hotel.
Tuesday in the Poppies

At that moment, the red poppies which filled the fields around our hotel were in full bloom, so we decided to start the day by painting in them. By 8:30 AM, everyone was happily walking around up to their knees in poppies, trying to take in the remarkable sights before them. Everywhere one could look was stunning beauty. One of the painters exclaimed, "I feel like I'm drunk!" I knew what she meant. Dozens of possible compositions made this a challenge to figure out what to keep in and what to leave out. And of course, we love it all and want it all, but that won't do. Like guests at a giant visual buffet, we can't possibly eat everything, so we must choose. This was the first task—to help the students process the scene and create compositions that actually could be painted in the two and a half hours we had to work that morning.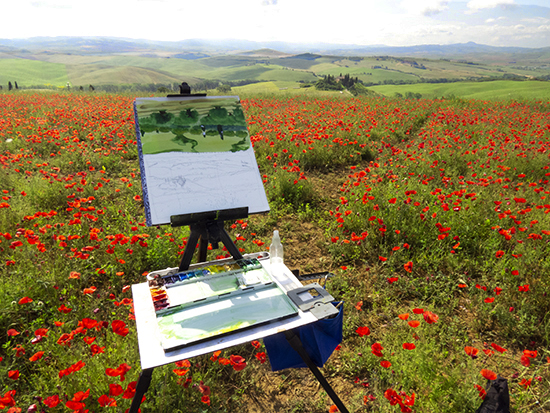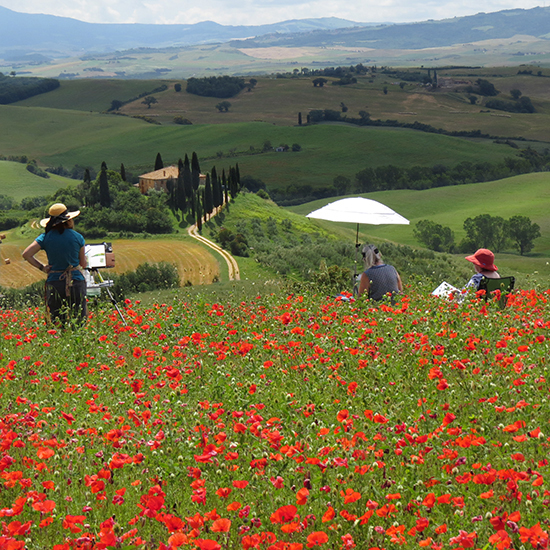 Thumbnail sketches help immensely with this. I encourage students to sketch three different designs. I prefer a large view, a close-up and a medium distance arrangement quickly sketched in a dark pencil or a marker. Or perhaps a square and a rectangle and a vertical thumbnail of the same scene will make it clear which will work best. It is so important to work these things out in the sketchbook before committing to watercolor paper. The other big benefit is that drawing educates the eye. It puts the important details and shapes in our memory and helps us to work faster.

It is always a treat for me to watch as each person interprets the landscape in their own way. Each artist decides what they like the most about the same scene and that lends me some insight into how they think and how they see the world. My job, then is largely one of technical advice, as it should be. How can they improve their composition? Where is the focal point? Is it clearly defined? What is the order of the washes? What is the best way to use the paint—sedimentary or stainer? And so on. Instead of demonstrating while they watched, this morning I spent all my time circulating from student to student offering what assistance was needed. This was their time to paint, and it was precious. Before we knew it, it was time to head on to lunch in Montepulciano—a thirty minute drive away.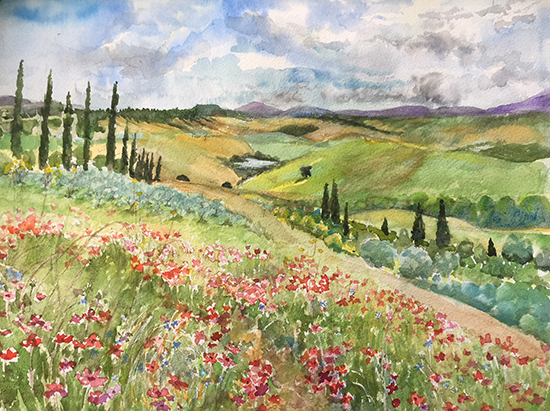 Poppy Fields 12 x 16" Watercolor © Maryam Hjersted
A Storied Hill Town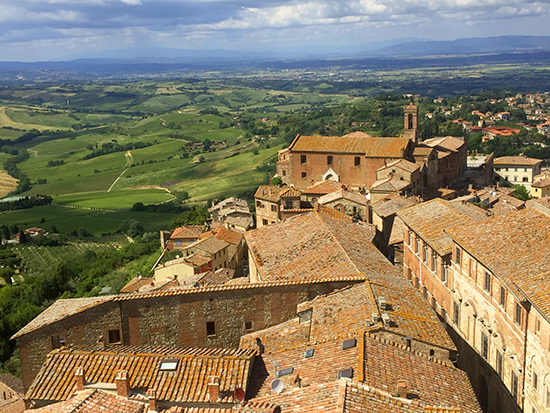 Montepulciano is one of the most well-known wine centers in Italy and the world. The local wine—Vino Nobile di Montepulciano—is justifiably famous for its wonderful flavor and ability to improve with age. I've never tested the age of this wine. I find it delicious right out of the winery or served to the table. The town is located high up on a hill to the east of Pienza a short distance from the Roman spa town of Chianciano Terme, and is surrounded by vineyards and olive groves.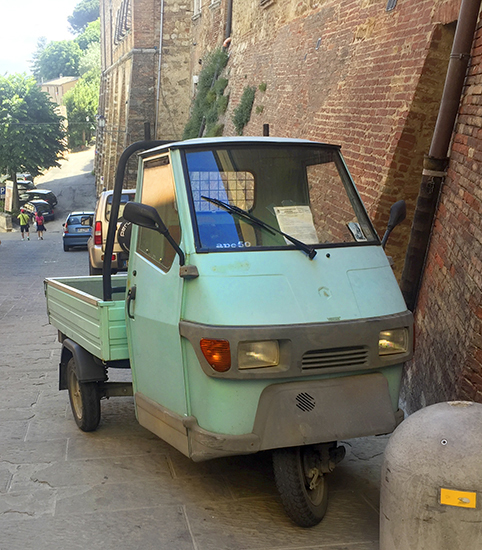 The road which leads up to this walled town is very steep and switches back and forth several times to gain the summit. The first time I tried to visit years ago, the clutch in the rental car was so weak that it started smoking - making it impossible to get up there! On this visit, we parked just below the old city gate because the streets are narrow and parking in the village is restricted to residents. Some of the turns up there are more than ninety degrees, making driving a real test of nerve and ability. I would never attempt to drive a nine passenger van up into the old town. Ever. Many of the locals drive little three-wheeled Ape vehicles to get around up there. We call them Cushmans.

After lunch, I planned to paint a demonstration picture from one of the overlooks I had scouted before. The high views out over the landscape are tremendous and give one the impression of what it must be like to be a bird flying over the land. However, the students said they would rather spend the afternoon exploring the village and taking pictures, and to that, I would never object. There is so much to explore in Montepulciano with its ancient streets, vertiginous views, massive Renaissance church, dark, cool wine cellars, interesting shops and a broad central square. There is an art museum next to a forested little park where one can sit and just take it all in. Montepulciano also has a bizarre Museum of Torture for those fascinated by the history of that gory and brutal subject.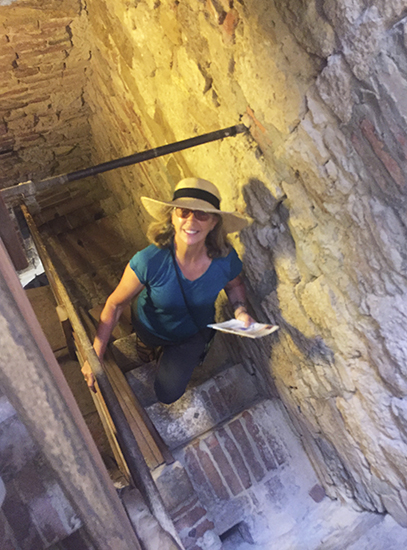 If one wants to really get the bird's-eye view of the town and surrounding countryside, I recommend a climb up into the bell tower of the town hall on the main square. It will cost 5 Euros to climb up the narrow twisting medieval stair/ladder to the top, but the view is worth it. Three of us went up to look around and take pictures. We weren't told that there is a time limit of five minutes. After about a half hour someone came up and began to speak to us in heated rapid-fire Italian. Since I had not studied any of the Imperative verb forms, I was slow to translate, but finally realized that he was telling us to go down the ladder so that other people could come up. When we reached the next level down, we saw that a long line of people had lined up where before there was no one. I guess we had really clogged up the works!

By five o'clock we were on our way to our next painting location, La Foce. La Foce is a very important old fattoria, or farmstead, but that term belies both its magnificence and importance to this part of Tuscany. The main villa lies on the pass that marks the entrance to the Val d'Orcia and was constructed in 1498 as an inn by the Hospital of S. Maria della Scala of Siena. For over a thousand years the site has been a strategic crossroads for travelers and goods. There is pre-Roman evidence of a prosperous Etruscan occupation there as well. During Roman times, the valley was developed into a thriving and productive agricultural area.
La Foce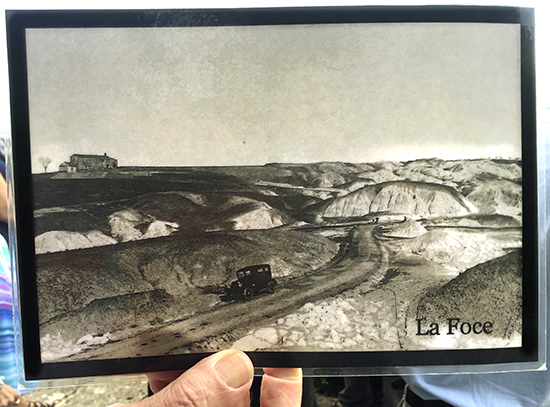 In 1924 the La Foce estate was bought by Marchese Antonio Origo and his wife, the Anglo-American biographer and historian, Iris Origo. When the couple purchased La Foce, this area of Tuscany, the Val d'Orcia, was an eroded and abandoned wasteland. There was only one tree living near the villa, a holly oak (Quercus ilex), which still survives. The bloody war between Siena and Florence spelled doom for this once-flourishing farming valley, and by 1554 the land was destroyed and most of the peasants and farmers had either been killed or had fled to the hill towns nearby. This was the desolate landscape which the ambitious Origos decided to transform back into the agricultural breadbasket it had once been. The couple immediately began improving the land around them, renovating the farms, planting trees, digging wells and curtailing erosion. They built roads to connect the farms and schools for the farm children. They also hired the noted English architect Cecil Pinsent to enlarge the house and farm and to create a vast garden, which was built in four phases between 1924 and 1939.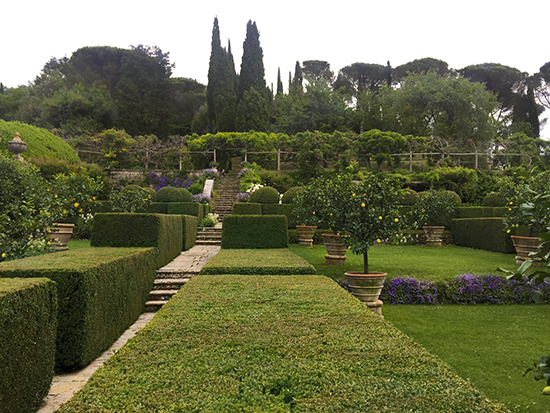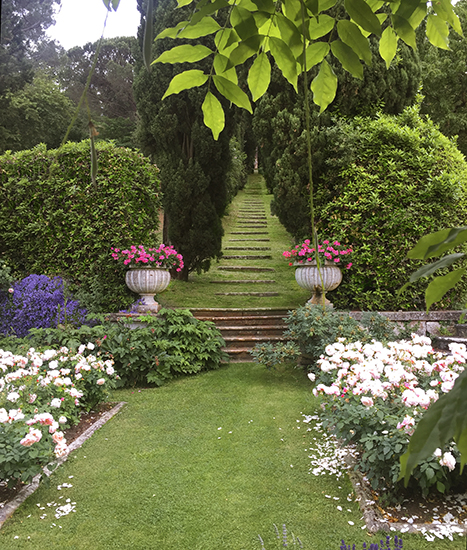 The gardens served as the template for the look which is so charming and familiar to us today. Tall cypresses and umbrella pines now line the switchback roads. Green fields of grains, vegetables and grasses are all around, interspersed with groves of olive trees. Deciduous trees line the stream beds and old gullies which give shelter to the wild boar common in the area and on the menu everywhere. The Origos succeeded in transforming the Val d'Orcia back to a thriving agricultural area and now, tourism resource. In so doing, they improved the lives of everyone around. La Foce is still owned by the Origo family. They maintain the gardens and villa to a high level and have renovated several of the original farmhouses as rentals. One can take a tour of the gardens on certain days, by appointment—well worth it.

To get to La Foce from Montepulciano, we took a shortcut on a gravel road which brought us near to our destination, the Dopolavoro, or "after work" building. It was originally constructed by the Origos to feed the farm laborers who did not live on one of the many farmsteads. Today the Dopolavoro is a bright and airy world-class restaurant serving some of the best food we have ever put in our mouths. More about that later.

As we descended the gravel road toward La Foce, we came to a narrow pull-out spot next to a field that was directly behind the Dopolavoro. We parked and walked down into the farm fields to take photos of the wonderful views of Monte Amiata in the distance and the olive grove behind the Dopolavoro. We decided that if we could manage it, we would like to return to paint in these fields another day.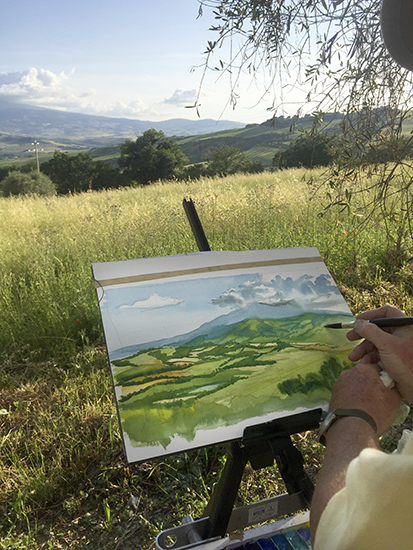 For now, our mission was to park in the lot across from the Dopolavoro restaurant to paint the view from there. The evening light, the air temperature, the view, everything was as perfect as one could want. The time flew by as the sun slowly lowered toward the tops of the hills and the light gradually took on a golden glow. By 7:30, the light was perfect, but it was also time for our dinner reservations across the street—and what a treat this was going to be. We knew when we arranged for the dinner that the chef, Asia, had a very good reputation for fresh delicious food. As we got to know Asia better, we were surprised to discover that she also spends part of each year in San Francisco, cooking with the top chefs and learning about the latest trends in food.


The Menu
We were seated outside at a long table under an elegant metal arbor which had fragrant blooming Stephanotis climbing up each post, so the air was perfumed with jasmine. As the lowering sun streamed in across the distant umbrella pines and over the white roses edging the patio, we were served a fresh salad which must have been picked out of the garden the hour before, mixed with tuna, olives and tomatoes. The second course was a mixed grill of chicken, sausage, sliced Chianina steak, pork ribs and pork skewers, with a side dish of fresh spinach cooked in garlic and butter. The pork is from a special, nearly extinct domesticated Tuscan pig, called a "Cinta Senese", which has a very high fat content in the meat. Asia told us that she sourced everything, except the tuna, fresh from the farms nearby. The mixed grill just kept coming and coming until we could not eat anymore. At least, not until the tiramisu showed up.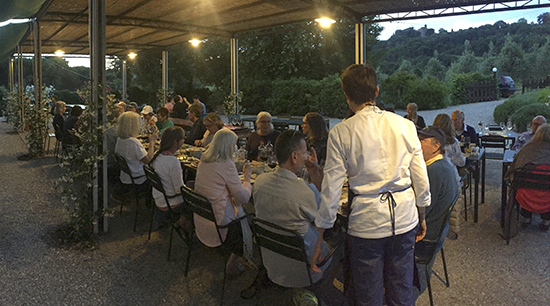 By the end of the evening, everyone was in high spirits from the wonderful food, atmosphere and the excellent wine we were served. I carefully drove a raucous van full of happy students down the long switch back road toward our hotel across the valley, satisfied that we had really exceeded our expectations of what should define the best of a Tuscany experience. How could we possibly top this?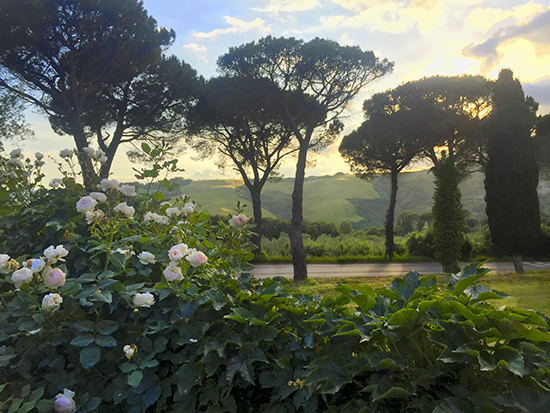 Coming up next month: It Just Gets Better and Better - Part 2 of our Watercolor Painting Holiday in Tuscany. Stay tuned!
Thinking of joining us on one of our workshops in the future? Use the Contact form to let us know and we'll keep you on the workshop list.