Allons-y!

Perspectives No. 384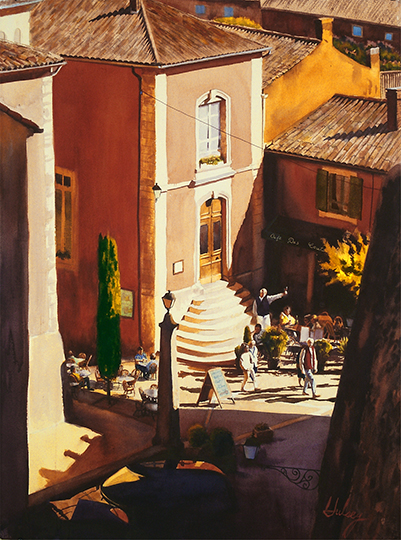 A Votre Sante 30 x 22.5" Watercolor © John Hulsey
Among the many great pleasures of group travel is the feeling of combined purpose and camaraderie. It is all too rare to have these feelings nowadays—we all lead such busy and separate lives. We may have work associates or neighbors, acquaintances at school or people we know from public service of one kind or another, but rarely do we have the opportunity to join together with relative strangers bent on one pleasurable goal, to have a wonderful life experience in a new and inspiring environment.

We all seem to work harder than ever these days, and while we are pretty good at the little pleasures of life, we are not very adept at giving ourselves permission to enjoy the simple, but immensely satisfying art of living fearlessly in the moment. This experience is greatly facilitated by being far away from our home concerns, with nothing pressing on our schedules, surrounded by like-minded people, and with caring and knowledgeable guides.

We are preparing now to leave for our watercolor workshop in St. Rémy, in the artistic and scenic heart of Provence, France. The friendly Provençals live at a slower pace than Americans typically do and highly value living a peaceful, good life in synchrony with the seasons. That good life requires the very best fresh food, wonderful wine and lots of time for conversation. It behooves us to adapt to the local conditions, as tough as they may be! Our group of intrepid travelers are from all walks of life and are accomplished in their careers, but none of them are professional painters. A few are beginners in watercolor. To be sure, we will instruct and paint each day, but the purpose of the trip—the real purpose—is to have an inspiring adventure while wrapped in the esprit de corps of our group.

Each day, we will drive our small group to visit charming villages where we will explore, paint and soak up the local culture on the street and in cafes. There never is any hurry, and our itinerary is always flexible. We think of it as adult painting camp. Every day is built for pleasure—the pleasure of just being fully alive and ready for the joys of another day in sunny, sweet Provence. Join us sometime—we'd love to have you.


While we are away, for those not able to join us this time, we will be sharing episodes with you from our previous trips to Provence. And when we return, look for a new series of articles about our adventures in France.