Frank LaLumia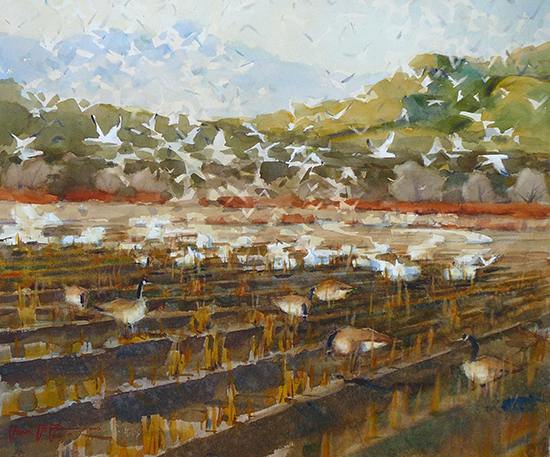 Taking Flight - The Bosque del Apache Watercolor 17 x 22"

John first had the opportunity to meet and paint with Frank LaLumia when he was living north of Santa Fe, New Mexico. His in-depth book, Plein Air Painting in Watercolor & Oil
had recently been published (2000). Frank, at that time, had already been painting en plein air for over twenty-five years. For him, oil painting and watercolor painting have equal importance. When asked which is his favorite, he says, "It's an impossible choice, like choosing between one's children." In addition to painting extensively in New Mexico and California (where he lived in the 1970s), he has traveled and painted throughout the United States and the world, including China, Greece, India and Mexico. Frank's credentials include signature membership in the Plein Air Painters of America, the American Watercolor Society, the Oil Painters of America, the National Watercolor Society and the Transparent Watercolor Society of America. He was featured in the PBS series, "Plein Air: Painting the American Landscape.

We began our conversation by asking about his family's background in the arts.

Is there a history of artists and/or art appreciation in your family?

My father was a musician. He played clarinet and trumpet, and he was
the leader of his own Big Band, in the tradition of Glenn Miller and Tommy
Dorsey. He was very successful in Chicago in the 1930's, winning a number
of Big Band Contests. If World War II had not come along and interrupted
everything, Chico LaLumia and his Band could have been a contender . . .

To read the entire interview with Frank LaLumia and to see more of his exceptional watercolor and oils, please become a Member of The Artist's Road by clicking here.
Already a Member? Click here to go to the the in-depth interview.
Visit Frank LaLumia's website at: www.LaLumia.com

All artwork copyright Frank LaLumia

Share